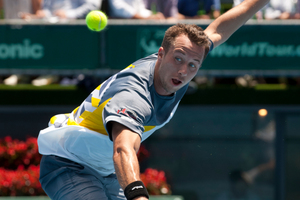 Not even a loudmouth with an obsessive cellphone-use disorder could keep Philipp Kohlschreiber from returning to pursue his annual love affair with Auckland.
After last year we wondered if we'd seen the last of the German. We couldn't have blamed him if he had decided to stay away. Not after a courtside patron had decided match point in his semifinal against battling Belgian Olivier Rochus was the perfect time for a chin-wag on the blower.
"Get off the f***ing phone," Kohlschreiber raged at the guilty party after dropping the point, and with it the chance to contest a second Heineken Open final.
Stanley St's intimacy is one of its great charms, but the close proximity of the winers and diners to the winners and grinners is not without drawbacks.
As the sun shines and the day wears on, observing the action tends to drop down the priority list of many in the best seats. The contempt displayed for Kohlschreiber's efforts may have been the worst example of that, but it is hardly an isolated case.
Kohlschreiber's record in Auckland is exemplary. The second of his four career titles came here in 2008 when he downed Juan Carlos Ferrero in the final. Today's semifinal against big-serving American Sam Querrey - also a finalist here in 2009 - will be Kohlschreiber's fourth in Auckland. In nine visits he has failed to reach the quarter-finals just once.
It's that type of consistency that has kept Kohlschreiber inside the top 50 since 2008. Last year was his best on tour yet. He reached a first career Grand Slam quarter-final at Wimbledon and picked up a title on clay in Munich, his second success in that event.
At 29, he's "for sure wiser, and older, yes". He's happier about the first part of that equation than the second.
"Sometimes it is good. I understand tennis a little bit better, have a different perspective, but sometimes it would be great to be 22 again."
Not that age is wearying him yet. An aesthetically pleasing strokemaker with a one-handed backhand - "the response I get from people is that I have a beautiful backhand, so that's nice", he said last year - Kohlschreiber doesn't have the weapons to overpower many opponents. Instead he relies on precision and relentless pressure.
"I am a fighter on the court," he said. "I like to play with a lot of intensity, to put pressure on my opponent."
So far, so good in 2013, a year in which he wants to stay inside the top 20, and maybe pinch another title. He won his first match of the year in Doha before dipping out to Gael Monfils in the second round in Qatar.
In Auckland, he battled past Colombian Alejandro Falla in three sets, before yesterday accountingfor Xavier Malisse in straightsets.
It looks as though he's getting better with every outing. And, so far, he's even managed to hold the attention of most of the crowd.

Philipp Kohlschreiber
Nationality: German
Age: 29
Ranking: 19
Plays: Right (single-handed backhand)
Titles: 4
Auckland record: 19-7 (1 title, 3 semifinals, 4 quarter-finals)