Third straight and fourth overall title awaits but it's today's game on Spaniard's mind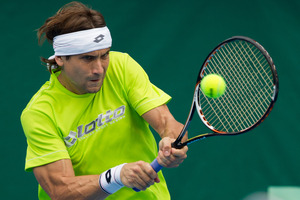 The history books may eventually record the name David Ferrer as the Auckland men's tennis open's most successful player, but the pursuit of that goal isn't exactly causing the redoubtable Spaniard to lose any sleep.
The top seed's quest for a third-straight and fourth overall Heineken Open title - both marks that would tie legendary Australian Roy Emerson - begins today against the winner of last night's late game between Frenchman Benoit Paire and Taiwanese player Yen-Hsun Lu.
Like fellow seeds Philipp Kohlschreiber (2), Tommy Haas (3) and Sam Querrey (4), Ferrer enters the tournament in the second round. That controversial mechanism - designed ostensibly to help tournaments to recruit top players - certainly makes it easier for Ferrer to pull off a three-peat. However, that shouldn't really undermine his achievements here. He turns up year-in year-out and seldom loses, regardless of the circumstances.
There were no such leg-ups in Emerson's day and plenty would argue the fields were stronger. Then again, Emerson didn't have to deal with too many Eastern Bloc giants fizzing the ball down at 230km/h.
Make no mistake, Ferrer will be chuffed if he can win here again, but he insisted he was simply concentrating on his next match.
"If I win it will be a dream for me," he said in English that has improved over the years but still requires the odd translation. "To win any ATP tournament is difficult. But I am not thinking about if I win here or not. I am only focused on my next match.
"Every year is different. This year I feel good but I know it is very difficult to win here. OK, I have won three times, but for now my only focus is the next match ... "
Ferrer's lofty ranking - he's currently five but will improve to four after the Australian Open due to countryman Rafael Nadal's inactivity - means he always has plenty of options when it comes to plotting the opening moves of his season.
His reasons for returning to Auckland each year are simple - he's comfortable here and that usually translates into success. In eight visits he has failed to make the quarter-finals just once, winning 21 of his 26 matches.
"I like this tournament a lot," he said. "I like the organisation and the people. For me it is very, very special."
With the Spaniard having started his season a week earlier than normal, with a run to the semifinals in Doha, the chances of him being caught cold in his opening match have declined. But for a player who relies on his legs more than most, perhaps the biggest question is whether age is catching up with the 30-year-old.
His side of the draw is stacked with dangerous players such as Thomaz Bellucci, Tommy Haas and Gael Monfils. If he does go on to claim title number four, it might be his most impressive effort yet.

The Big Guns
Heineken Open day three
1. David Ferrer (Esp) v Yen-Hsun Lu (Tpe) or Benoit Paire (Fra)
2. Philipp Kohlschreiber (Ger) v Alejandro Falla (Col)
3. Tommy Haas (Ger) v Igor Sijsling (Ned)
4. Sam Querrey (USA) v Olivier Rochus (Bel)