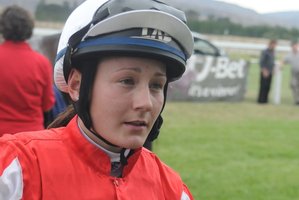 Jockey Ashlee Mundy died doing what she loved best, says her father.
"One minute she was on a horse going 100 miles an hour and the next minute she was asleep,'' Lockey Mundy told mourners at a funeral service in her hometown of Westport.
"There's no point asking why - that's just the way it is. Sometimes the dice rolls, sometimes it's not your day. And for our girl, it wasn't hers.''
Mundy, 26, suffered severe head injuries in a fall at Kurow on December 30 and died in Dunedin Hospital the following day. Her organs have been donated.
About 600 people gathered at Westport's Solid Energy Centre sports stadium for a funeral service on Friday celebrating her life.
At the same time, a service was held at Sacred Heart Church in Surfers Paradise. Mundy was a freelance jockey at the Gold Coast Turf Club and had returned to New Zealand to ride the South Island's summer racing circuit.
Mr Mundy recalled his daughter's childhood in Westport where her love of horses began and was nurtured at the local pony club.
He said he and Mundy's mother, Cheryl, were "immensely proud of her, we thought she was the best girl on the planet''.
After leaving Buller High School she worked briefly as a cleaner, then a checkout operator, before becoming an apprentice jockey with Christchurch trainer Michael Pitman.
Mundy had just spent her first Christmas in a decade with her family in Westport. Christmas Day was the last time they saw her.
Mr Mundy said he couldn't remember the last thing he said to her.
"I probably said something like `drive safely' because, deep down, I thought the risk of getting hurt on the roads was going to be much higher than an accident on the track.''
On December 30, he received a call to say she had fallen at the Kurow races. "I just had a horrible feeling in the gut.''
He, her mother and their respective partners drove to Dunedin Hospital "with heavy hearts but ever hopeful''. They arrived at 3am New Year's Eve to find their worst fears had been realised.
However, they were fortunate she was on life support and they were able to spend 14 hours with her before it was turned off, Mr Mundy said.
He thanked his daughter's "racing family'' for playing such a big part in her life.
"She loved every minute of it. She loved being in the limelight. She loved the competitiveness. It was just her life. She went out doing what she loved doing.''
In his eulogy for Mundy, Pitman said success on the track did not come easy to her at first. Her first winning ride on Starkay was followed by about 15 months, and some 80 rides, without a win.
However, she went on to notch up 100 wins as an apprentice - perhaps the only female South Island apprentice to do so - and was twice named the South Island's leading apprentice.
She rode 231 winners in New Zealand and 43 in Australia.
A TAB Trackside video montage of Mundy's career highlights was screened at the service.
Mundy's casket left the service to Dave Dobbyn's Slice of Heaven as 13 jockeys with raised whips formed a guard of honour.
Using Mundy's saddle for the last time, jockey Laura Cheshire, one of Mundy's best friends, rode a horse that led the funeral cortege to Westport's Orowaiti Cemetery.