After overcoming injuries that kept him out of the game for six years, upbeat American is hungry for success.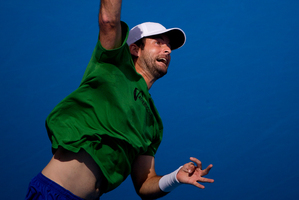 For a lesson in optimism it's hard to go past Brian Baker.
The American, who is about to play in Auckland's Heineken Open for the first time, is on the comeback trail after a horror run of injuries which required five operations and kept him out of the game for six years.
Last year Baker hit a ball at the top level for the first time since 2005 and went on a brilliant run at Wimbledon, reaching the fourth round after coming through qualifying. Now he wants improvements.
The 27-year-old from Nashville, Tennessee, is happy to be back after his various ailments, but now he has tasted success the man ranked No61 in the world wants to break into the top 50. Not surprisingly, however, Baker is wary about pushing his body too far.
"At the end of '05 my left hip was bothering me at the US Open and after that I had my first left hip surgery," he said.
"That was the start of a big string of injuries which kept me out for the better part of six years and I ended up overall having two left hip surgeries, a right hip surgery, a sports hernia surgery and right elbow surgery, so it was a string of bad luck.
"I went back to school and coached and in the summer of 2011 I began playing again. I had a pretty remarkable year last year."
Baker's success at Wimbledon - "to win three matches in the main draw and three matches in qualifying, it was unbelievable" - proved his decision to battle on at the highest level was a sound one.
Asked why he didn't simply give up and try something else, he replied: "Mostly I felt like I had some unfinished business and for peace of mind - if my body ever allowed me to play again, I still remained hopeful, and if I could I wanted to go back.
"I love tennis, that's what I've done for most of my life, so not being able to play for those years was really tough."
Baker, whose tournament gets under way today against fifth-seed Jerzy Janowicz, from Poland, said he missed the professional tennis life when he was away and although every day on the circuit was a bonus, he wasn't satisfied with just playing.
"Once you have success you keep on wanting to do better.
"I'd like to get into the top 50 and hopefully make another run in a grand slam like I did last year at Wimbledon ... just keep on moving up, and also the main goal every year is to keep looking after the body and make sure I stay healthy."
The tournament's top four seeds - David Ferrer, Philipp Kohlschreiber, Tommy Haas and Sam Querrey - have first-round byes. New Zealander Dan King-Turner will play his first-round match tomorrow against a qualifier who will be confirmed today.
King-Turner's fellow Kiwis had a tough day in qualifying - Sebastian Lavie lost to Benjamin Becker 6-3 7-5, Cameron Norrie went down to Matwe Middelkoop 6-3 6-0, and Michael Venus lost to Jesse Levine 6-0 6-3.
Order of play
Centre Court
12 noon
Benjamin Becker (GER) v Lukas Rosol (CZE)
David Goffin (BEL) v 8-Thomaz Bellucci (BRA)
7-Martin Klizan (SVK) v Xavier Mallise (BEL)
Olivier Rochus (BEL) v Albert Ramos (ESP)
Not before 7pm
5-Jerzy Janowicz (POL) v Brian Baker (US)
1-Fleming/Soares (GBR/ BRA) v King-Turner/Venus (NZL)
Court 2
Jesse Levine (CAN) v Frederik Nielsen (DEN)
Court 4
Matwe Middelkoop (NED) v Igor Sijsling (NED)
Victor Hanescu (ROU) v Greg Jones (AUS)
- APNZ