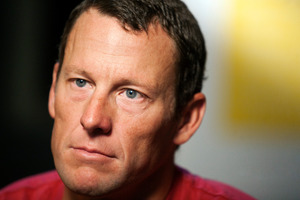 The world of cycling is poised for what would be the most sensational confession of drug use in the history of sport after it was claimed Lance Armstrong is preparing to admit he systematically cheated his way to seven Tour de France wins.
Armstrong, 41, spent years leading what the US Anti-Doping Agency in its 1000-page report last year described as sport's "most sophisticated, professionalised and successful doping programme ever".
But even after the report was released and Armstrong was stripped of all competitive results since 1998, the American has systematically denied using banned drugs.
Should he now confess - as a report in the New York Times claims he is ready to do - seven-year statutes of limitation would probably protect him from perjury charges for having sworn under oath in 2005 that he did not use banned drugs.
However, after already losing US$30 million ($36 million) in estimated future earnings after his main sponsors abandoned him, Armstrong would face further multimillion-dollar claims for the return of income from his main sponsors.
He already faces lawsuits from insurance company SCA Promotions, which aims to recoup US$7.5 million paid in bonuses for his Tour victories, and the Sunday Times, which settled a libel suit with him out of court over doping allegations.
On top of that, Armstrong faces a US federal whistleblower lawsuit - reportedly started by Floyd Landis - over the use of sponsorship money provided by the US Postal Service for performance-enhancing substances.
For Armstrong now to confess would represent an astonishingly costly turnaround. Up to now he has constantly denied doping and failed to respond to the USADA charges or appeal against the ban.
His last public appearance via his Twitter feed, delivered from his Austin, Texas, home, showed him "just layin' around" in front of seven framed yellow jerseys from each of his Tour wins. The message, again, appeared to be that he would remain uncatchable.
He is believed to be considering an admission because he wants to resume his athletic career, and has shown an interest in competing in triathlons. It is also thought that his foundation, the Livestrong charity, has indicated to him it would be best to provide closure to the continuing drug scandal.
Asked whether Armstrong was set to come clean about his past, his lawyer Tim Herman said he had no knowledge of a confession. "When, and if, Lance has something to say, there won't be any secret about it."
The New York Times claimed that Armstrong had contacted the head of USADA, Travis Tygart, who called for the Texan to tell the truth last month, although Herman denied a meeting had taken place.
Armstrong's former teammate Jonathan Vaughters said yesterday that the consequences of his confessing would be hugely beneficial for cycling, in that it would allow the sport finally to put the long-running scandal of drug-taking behind it.
"If he chooses to come forward, I would respect him for that action," Vaughters told the cycling website VeloNews. "Total and complete truth is the only way forward for cycling. If Lance chooses this as his path, it will help the sport heal."
Yet as a notoriously hard-headed and cold-blooded operator - "no gifts," he snarled after winning six Tour de France stages in a single year - Armstrong is certain to have weighed up the advantages of confessing as carefully as he once used to weigh his food every night before dinner to check he was not ingesting one unnecessary calorie.
Britain's leading anti-doping crusader, David Millar, said in October: "I do think he should come clean, but I also know Lance and the sheer scale of what that would represent for him. He has had a decade of libel cases and it... has got so big it might be very complex for him. It is simply not a case of coming clean just to clear his conscience. He would have to do it tactically."
Last year's Tour winner, Bradley Wiggins, was even more doubtful.
"I don't think he is ever going to confess. He has too much to lose," Wiggins said recently.
One of those whom Armstrong harried after she accused him of doping, Betsy Andreu, wife of his former teammate Frankie Andreu, said she believed that the scale of Armstrong's intimidation was so great that he should not be allowed to wipe the slate clean, no matter how high a financial price he paid.
"This guy is like a mafia don," she told the New York Daily News. "Will he apologise to all the people who wouldn't lie for him?
"Will he compensate people for costing them jobs and businesses? How do you put a price on lost opportunities?
"If people give this guy another chance, then people are dumb."
- Independent