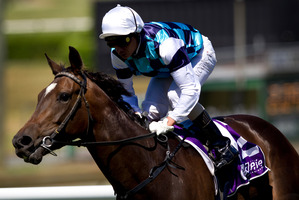 Vinnie Colgan bounced back from a race fall at Tauranga on Wednesday to quickly refind winning form at Thames yesterday.
At the popular holiday racing destination, Colgan opened with a second placing on the favourite Hot In Pink and then got Gaston home with a well timed run in the next, the Benchmark Rating 85 sprint.
In the Tauranga home turn incident, Colgan's mount Bon Genie was brought down by the Jenny Whiteside-ridden Roydon. Whiteside suffered multiple neck and spinal injuries but is fortunately expected to make a full recovery.
Colgan escaped relatively unscathed but admitted to some residual soreness.
"I'm a lot better than the day after it happened but I'm still feeling it a bit in one thigh - not enough to stop me riding though," he said.
In a packed finish to the 1200m event, Gaston got up in the shadows of the post to down fellow grey Cool Storm, Cachucha and favourite Vincent Mangano.
- www.theinformant.co.nz