Whether motivated by a yen for cash or a chance to experience a new culture and lifestyle, New Zealand rugby players have made Japan a popular destination over the last two decades. Michael Burgess looks at the life of a 'Japanese import'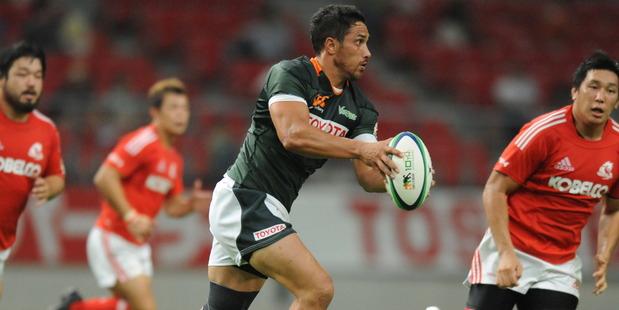 Japan first came to rugby prominence in the late 1990s, when former All Blacks such as Graeme Bachop, Jamie Joseph and John Kirwan made the move north.
The establishment of the professional Top League in 2003 lifted standards and also demands for top Kiwi talent, which has arguably peaked in recent years with the presence of established All Blacks such as Sonny Bill Williams, Brad Thorn, Jerome Kaino and Mils Muliaina.
But what is life like for four of our best 'imports'?

STEPHEN BRETT (Toyota)
Brett arrived in Japan more prepared than most.
He had a grasp of the language, having studied Japanese for three years at high school, which meant he settled quicker and made the job of running the backline easier.
"Being able to speak a bit certainly helps," says Brett. "They like to have foreigners at 10 but often the language can be a barrier, especially at the start."
"He's pretty fluent," laughs team-mate Jerome Kaino. "He basically runs our training sessions and does a lot of the talking."
There was still plenty to adjust to. His first house was a four-bedroom mansion but now he lives in a more "homely" apartment.
Toyota is far from the bright lights of Tokyo (almost 400km) and Brett describes his suburb as "Japanese style countryside".
"It's good because some foreigners can go a bit astray in places like Roppongi (Tokyo's famous nightlife area)," says Brett.
"But you do have a lot of time on your hands down here. There is a lot of downtime - DVDs, sushi with the other foreign boys and visits to Starbucks."
Brett currently drives a BMW, somewhat undercover, after a visiting family member crashed his Toyota, a compulsory purchase for the club's foreign players.
The former Crusader and Blues pivot has thrived. After a disappointing 10th place in his first season, Toyota are fifth (with one match to play) and Brett is the league's second highest scorer.
"If you don't get frustrated in your first year, there is something wrong," says Brett. "They have their own set ways but with time, you get respect and are listened to.
"The rugby is getting better and better - though we still train way too much - sometimes it feels like we are training for the sake of it."
Brett recounts stories of his Japanese team-mates, who are employed in Toyota's head office to run stretch classes and order seatbelts (among many roles), staying to do an hour of extra training after a session that has already gone well over two hours.
There is a considerable amount of travel, as games are played as far south as Okinawa and as far north as Hokkaido, part of the drive to popularise the game. The fans, primarily company employees (the companies will often pay for tickets) are loyal, turning up every week regardless of results.

JOSH BLACKIE (Kobe)
Josh Blackie is a strong advocate for the Japanese rugby experience, even if the culture remains a source of fascination.
Blackie has played for Kobe since 2007, after a long career with the Highlanders sandwiched with a brief stint at the Blues.
"I've loved it here," says Blackie. "It can be hard to describe - you only truly understand life here once you start living it but there are endless surprises and still some things you never quite understand."
The Kobe Steelers are the oldest sporting club in the region, founded in 1928, pre-dating the local football and baseball sides.
With a population of 1.5 million, the cosmopolitan city is a comfortable size and offers (relatively) easy access to the sea.
The extended training sessions and constant team meetings took some getting used to - as did the approach of the local media.
"Obviously rugby here doesn't have the same profile and the media interest is considerably lower," says Blackie. "They don't really have media sessions as such - but you might sometimes find reporters hiding in the dark in the carpark waiting to talk to you."
At times it can be intense - cultural norms play a huge part within the sport and local players have been known to shed tears during pre-game speeches - but Blackie loves being part of a culture that is a million miles removed from New Zealand.
During his stint, he has been reprimanded by a team-mate for not eating an apple in the correct way and eating anything standing up or on the move is considered a no-no. Going barefoot anywhere is also strictly frowned upon and Blackie says recent arrivals are always caught out by the Japanese practice of using a different pairs of slippers for inside the house and a separate pair for the bathroom.
The famous Onsens (hot springs) are a tourist drawcard but often out of bounds for many foreign players (who tend to have tattoos), as such body art is considered offensive given its Yakuza (Japanese mafia) associations.
The crowded trains are always fun, as it is socially acceptable to sleep with your head resting on a stranger's shoulders, though that is a rare event for the 1.93m Blackie.
Perhaps his most bizarre tale is the local use of hazard lights on the highway for a comfort stop. Apparently it is common - and accepted practice - to pull over, turn on your hazard lights and urinate on the back tyre as other drivers flash past barely batting an eyelid.

LUKE THOMPSON (Kintetsu)
After eight years, it's a sight that still turns a few heads in Osaka. Former Canterbury NPC player Luke Thompson cycles to the stadium on match days with Kintetsu Liners, his bag slung over his shoulder like a teenager as he makes his way through Japan's second biggest city (population: 3 million).
"I live close, so it is the best way of getting there," says the 1.96m Thompson, "though the locals often look quite surprised to see me cruising past."
Thompson came to Japan in 2004 after he found his progress in the red and black jersey blocked by Brad Thorn and Chris Jack.
He spent two years at Sanyo (now Panasonic) before relocating to Kintetsu in 2006. He has since become a Japanese citizen and has chalked up 39 tests for the Brave Blossoms.
"I guess I've done it all here," says Thompson, "but I loved it from the start. At first things like the food were an issue - I was a typical 'meat and three veges' man and here there were lots of little dishes and chopsticks."
Kintetsu, primarily a railway company, have a heavy training schedule. They typically train morning and afternoon three days a week, with Wednesday off and a captain's run on Friday. Many of the Japanese players on the company team have regular jobs, some at the train station as platform guards or engineers.
Thompson's wife works as a teacher trainer for an international school, which has made life smoother.
"They have a saying here: 'happy wife, happy life'," laughs Thompson, "and it's definitely true, as it can be difficult for partners here who might struggle with boredom."
According to Thompson, the Top League standards have improved significantly over the past nine years: "Some imports used to come here for a holiday and to put their feet up. That still happens sometimes - and those players give the rest of us a bad name - but generally players are coming here younger and contracts are not as easy to come by."

DAVID HILL (Toshiba)
In 2009, David Hill experienced a truly sweet and sour introduction to Japanese rugby.
The former Chiefs and All Black first five-eighths, who has now clocked up five seasons in Japan, had signed on to play for Toshiba Brave Lupus after two seasons with Bristol in the English Premiership.
Toshiba enjoyed a strong season, and upset Sanyo (now Panasonic) to win the Top League final.
However, the team were denied the chance to compete in the All Japan National Championships - the highly prestigious knockout competition that involves the top club and university sides - after star winger Christian Loamanu tested positive for marijuana.
He was banned indefinitely from Japanese rugby but the club also decided to withdraw from the competition in the "spirit of rugby values".
"At the time, it was pretty hard to take," says Hill. "We had come through a tough season and were looking forward to the championship. I asked about it but was told 'this is the way we are'."
Still, Hill has found his Japanese experience richly rewarding and eye-opening. He arrives for training each morning with more than 10,000 'salary men' at Toshiba's huge base in western Tokyo. No cars are allowed inside the huge complex, so Hill rides his bike to the sports fields, as the workers file to their factories and offices.
Toshiba, who are one of the world's largest manufacturers of personal computers, won four Top League titles in the 2000s as well as three All-Japan championships.
This season, the import quota was reduced from three (on field) to two but some clubs still carry as many as eight foreign players. Hill says one of the keys to success as an import is longevity.
"Being here more than two years is ideal," says Hill, citing the impact of men such as Tony Brown and Scott McLeod. "It's good for the club, team and player. Clubs have become more willing to spend big dollars on short-term imports but that can be hit or miss."
The 34-year-old still finds frustrations with some aspects of the Japanese approach to the sport.
"It is possible to make changes here but you need to pick your battles," says Hill. "A lot of guys arrive and try to change everything from the outset, which will never work."
Michael Burgess travelled to Japan with the assistance of the Asia New Zealand Foundation.

Japanese rugby
• Many Top League teams have budgets equivalent to those of a Super 15 franchise.
• Salaries have increased by 30 per cent over the past three years and are on a par with France; George Gregan was said to be earning 85 million ($1.15 million) annually during his stint at Suntory, while Jacque Fourie, Sonny Bill Williams and Jerome Kaino are among those currently on mega dollars.
• Some teams (IBM, Secom) no longer have foreign players.Though the season is relatively short (13 competition games, plus play-offs) pre-season can be up to five months long.
• Teams are permitted two imports on the field (down from three last season), through foreign born Japanese passport holders are classed as nationals, while players of Asian descent (ie. Craig Wing, who has a Filipino background) are also exempt.