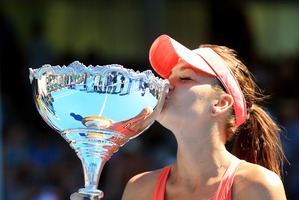 Agnieszka Radwanska can look like the sort of player a club player could beat with her unorthodox approach and lack of power but she proved too classy for the rest of the field as she took out the ASB Classic title with a 6-4 6-4 defeat of Yanina Wickmayer today.
She admits she can't serve at 200kmh or outslug some of the heavyhitters on the women's tour but makes up for it with her court-craft, anticipation and mental toughness.
It's an approach that has helped to world No 4 (she was as high as No 2 last year) and today she collected the 11th title in her successful career.
She went through the week largely untroubled and didn't drop a set. She always had the edge over Wickmayer, who became increasingly frustrated as she was forced into errors by a player who resembled a brick wall.
"I left my heart and soul out on the court and I couldn't have done any more,'' Wickmayer said. "I was trying to be as aggressive as I could and not make too many mistakes.''
Wickmayer had her chances, and led 2-0 early in the second set and even had two break points when Radwanska was serving for the match, but was too wayward. That had more to do with Radwanska's skill than anything else and she closed out the match in one hour 35 minutes.
"I can't imagine a better start to the year and a better way to prepare for the Australian Open,'' Radwanska said.
"I'm very, very happy I could win for the first time [in Auckland]. She put up a great fight and I had to fight for every ball. She wouldn't give up. I was very happy to finish it in the second set.''
- APNZ