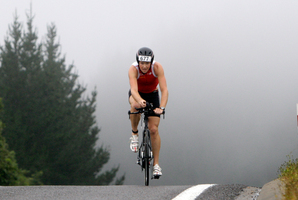 Graham O'Grady not only beat home a classy field with former world champion Terenzo Bozzone and nine-time winner Cameron Brown at the Port of Tauranga Half ironman today but also equalled the race record.
He did it in perfect conditions at Mount Maunganui, finishing in a time of three hours 47 minutes and 54 seconds to equal the record set by Nathan Richmond in 2006 over the 1.9km swim, 90km bike leg and 21km run. Bozzone was second, 51 second back, with Brown another 16 seconds behind in third.
Gina Crawford easily won the women's race from Candice Hammond, who was nearly three minutes behind. Jo Lawn was third, a further three minutes back.
O'Grady led out of the water after an impressive swim and he extended that to one minute 14 seconds heading out for the half marathon run. Bozzone made up ground and joined him on the run but O'Grady made a decisive move on the second lap to ensure victory.
"I think this is a great win, a perfect race for me," O'Grady said. "I have worked hard. I have had great races every now and then and known the potential is there but this result is pretty special and will give me confidence, especially against such a class field with Terenzo and Cameron. They are the best in the world. Hopefully I can keep this roll going through the year and race well at the world championships."
Bozzone, who got married last week, will hope he can go well there, too, but was left lamenting a disappointing swim and felt O'Grady deserved to win.
"That was fast from the word go," he said.
The women's race was expected to be a close battle between Lawn and Crawford, and the two exited from the swim virtually side-by-side.
But that was the last time Crawford was challenged as the 32 year old simply rode and then ran away from the field with Lawn left in a battle with Hammond for the minor placings. hammond won that battle thanks to an impressive 1:22.11 run split, the quickest of the elite women.
"I didn't feel tired," said Crawford, who will race Challenge Wanaka over the full ironman distance in a fortnight. "I felt really good, which is a good sign I think.
"I tried to go up another gear but my strength is the ironman pace and the fact I can hold that pace. For years I have done under nine hours in the ironman but struggled to go under four-and-a-half hours in the half which is really weird but lately I have started to enjoy the shorter distance a little more."
- APNZ