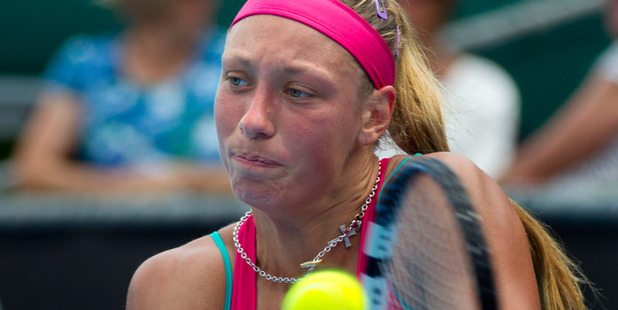 The two best players in the field will contest today's ASB Classic final, with top seed Agnieszka Radwanska to take on former champion and now three-time finalist Yanina Wickmayer.
Radwanska won through by claiming two tough sets from hard-hitting American Jamie Hampton, with both decided by a tiebreaker.
Wickmayer, the third seed, outlasted destructive German Mona Barthel in a three-set classic, triumphing 6-4 1-6 7-6 in 1h 47m to book her third final appearance in the last four years.
The 2010 champion was the dominant player on her side of the draw, but she came under considerable pressure yesterday when she was blown away in the second set after taking the first comfortably.
"In the second set, I didn't think I did anything wrong," Wickmayer said. "She was just smacking the ball and everything was going in. Some points I just didn't see the ball, it was going too fast for me."
That whirlwind second set lasted just 22 minutes, however Wickmayer showed good composure in the third to force the match into a final set tiebreaker.
Radwanska's match was also decided by a tiebreaker after a wild second set that saw the Pole streak to a 4-0 lead before the free-swinging Hampton peeled off five straight games.
Hampton had a set point serving at 5-4, however she double-faulted, handing the momentum back to Radwanska for the final time, with the Pole closing out a 7-6 7-6 victory.
"It's great to be in the final, especially in my first tournament this year," Radwanska said.
"I'm going to do everything in my power to win it."
The world No 4 will be chasing her 12th title, while Wickmayer is in pursuit of her fourth.
With her classy all-round game, Radwanska will start a strong favourite.
"She's a struggle to a lot of players," Wickmayer said.
"It's really tough playing her, especially with my game. I hit the ball really hard and she just counters. She's always there, runs really well and it's really tough to get winners to her.
"It's going to be a tough match for me to find a balance between being aggressive and not making too many mistakes. Once I find that rhythm, I think we are going to have a good match."

Semifinals
1-Agnieszka Radwanska (Poland) bt Jamie Hampton (USA) 7-6 7-6.
3-Yanina Wickmayer (Belgium) bt 8-Mona Barthel (Germany) 6-4 1-6 7-6.