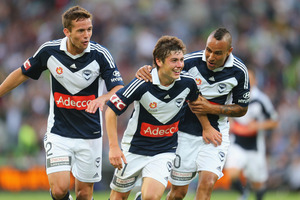 Marco Rojas' latest nickname is a vast improvement on the chants that normally greet him when he returns to play at Wellington's Westpac Stadium.
After his move to the Melbourne Victory from the Wellington Phoenix in 2011, the Yellow Fever labelled the talented All White Judas on his subsequent visits to the capital.
But lately he has been referred to as Kiwi Messi across the ditch after his recent exploits.
The 21-year-old was in sublime form a week ago for the Victory as they beat the Newcastle Jets 3-2. He scored two goals that wouldn't have looked out of place in any league around the globe.
Such a reference to Barcelona's Lionel Messi - who is the best player on the planet and scored an incredible 91 goals in 2012 - is over the top but, even in the internet age when judgements are passed in an instant, it blindsided Rojas.
"It has surprised me. I guess it's flattering to think that, when people watch me, they see the same sort of style he plays with," Rojas said.
"But Messi's one of a kind. He's a freak and I wish I could be half as good as that."
Twitter is a popular tool for athletes but Rojas hasn't given into the trend and marvelled at how the label Kiwi Messi on the social networking site could prove so popular.
On the field, Rojas will get another chance to terrorise his former club when the Victory host the Phoenix in Melbourne on Saturday night.
Despite the cool reception he receives when he returns to the Cake Tin, Rojas always has a funny feeling when he meets his old club who gave him his start in the A-League when just 17.
"I've always got a soft spot for the fans there and the club because it was my first professional contract and I enjoyed my time there and there's always mixed emotions. But in the end, for 90 minutes while you are playing, it's just about getting a result and after that I'll be able to catch up with my old teammates."
One of those former teammates he will give a torrid time to is centre-back Ben Sigmund, who said recently Rojas and strike partner Archie Thompson were the quickest front pairing in the A-League.
The Phoenix will have to field a different one of their own tomorrow with promising youngster Tyler Boyd suspended. Manny Muscat is also out after copping a three-match ban for striking an opponent in last week's 2-1 defeat to Brisbane.
Rojas' eye-popping form has seen him score nine goals in 13 starts this season - as well as adding five assists - and he has thrived under the guidance of Victory coach Ange Postecoglou.
Bigger things are on the horizon for the diminutive striker but he shot down speculation he would be on the move to a European club in the current transfer window.
"I don't really have a timeline on it. I think with Ange and the players that we've got here we can really push and do something special this year."
Rojas has already proved he's turning into something special.
- APNZ