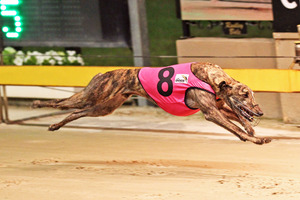 This evening's huge night of greyhound racing at the Cambridge Raceway has been rightly billed as "the night of stars" - numerous feature races have attracted the majority of the nation's leading chasers.
The headline act is the group two $20,000 Palamountains Nutrition Waikato Classic. Four Christmas Eve 457m heats decided tonight's even, competitive field.
Huntly trainer Denis Schofield produced Toi Shan (25.64 sec) and Cosmic Mack (25.71 sec) to win their heats. Both of them led throughout.
"They aren't the strongest 457m dogs in the world, but, in saying that, the others in this final aren't the quickest starters in the world.
"That's what will make this race interesting. They will give us a great sight and that's all we ask for. Both of them are as good as gold," said Schofield.
Bornato is a Cambridge track specialist, having won 11 of his 17 races here for trainer Arch Lawrence. He won his heat in 25.77 sec and he is a dog who certainly won't flinch if this final turns into a torrid, closely contested paw wrestle.
Te Awamutu trainers Wayne and Tracy Steele prepared Kiki Rhode to win the remaining heat in 25.86 sec.
"I would like to see her pushing up, handy to the pace, so she can use her powerful finish," said Wayne Steele.
The $10,000 Waikato Cup field is an absolute cracker where a winning case can be made for all runners.
Therefore take a look at the inside two drawn chasers, Pretty Good and Fancy Tip, plus the outside-drawn pair of Thrilling Quest and Lektra Fantasy.
Superstar stayer Thrilling Brat is stepping back up to his favoured 747m racing distance in the $11,000 Arch Lawrence NZ Racing Series Distance for trainer Karen Walsh and the on-fire dual code owner Gary Harding.