Veterans Belliss and Brassey reach round of 16 in national singles.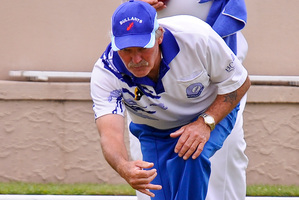 Peter Belliss and Rowan Brassey were mounting the podium to accept national titles more than 30 years ago and the two veteran bowlers are back with a vengeance at the national championships in New Plymouth.
Belliss (Aramoho) has won the men's singles title three times (1981, 1986 and 1992), the men's pairs in 1992 and 1995 and skipped the winning fours team in 2009.
After a hiatus from the country's top bowls event, Belliss fired into form and beat all-comers in the first four rounds of post-section play yesterday, including highly rated Stokes Valley bowler Blake Signal, 21-14.
Belliss will join another master of the greens, Brassey (Cabramatta), in the men's singles round of 16 being played today. Despite Brassey never having won a singles title, he rolled out visitors and locals alike.
Formerly of Okahu Bay in Auckland, Brassey was part of winning fours teams in 1981, 1982, 1990, 1995, 2002 and 2003, and also earned the top spot in the pairs in 1982.
Another veteran, Petar Sain (Carlton Cornwall), fought some challenging battles on the Paritutu rinks to earn a spot in the final 16, but it was a rough day for the Black Jacks squad members.
Matthew Gallop (Blenheim) was picked off by 2011 men's singles champion Shaun Scott (North East Valley) 21-12 in the first round, Ali Forsyth (Havelock) made it to the second round of post-section before being pushed out by Scott Evans (Onehunga) 21-17, and Richard Girvan (Onehunga) fell 21-19 to Kevin Robinson (Maungaturoto).
Former Black Jack Danny Delany (Onehunga) will join the other 15 bowlers fighting for a shot at the title.
Sandra Keith might not be able to defend her women's singles title but she joined forces with former New Zealand representative Serena Matthews to ease into the quarter-finals of the women's pairs.
The World Champion of Champions singles winner and Matthews ousted Denise Cooper's team (Lepperton) 18-16 in the first round yesterday morning, then followed with a 20-12 win over Eileen Anderson (Wanganui East) and a 21-14 victory over Catherine Bien (St Heliers) to clinch a spot in the last eight.
Keith had struggled during section play of the women's singles, losing all three qualifying round matches.
Sisters Mandy and Angela Boyd will face local bowlers Gale Fache and Betty Eustace (Vogeltown) when play starts today.
Multiple national title-holders Ann Muir and Anne Bateman will skip formidable teams in the quarters, meeting mother-and-daughter combination Leigh and Kirsten Griffin (Victoria) and Mary Campbell and Anna Davis (Tauranga South) respectively. APNZ
- APNZ