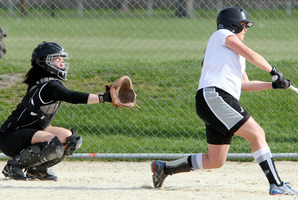 The White Sox programme takes another baby step towards the next world series, when coach Naomi Shaw and her New Zealand selection side cross the Tasman this week for another crack at the Australians.
The visit to Blacktown, New South Wales, will see the Kiwi women play eight times in five days starting tomorrow (thur), including participating in the third round of the Gilley's Shield interstate play and three 'tests' against an Australia Selection.
This side isn't labelled as a White Sox team as only two players - Rebecca Bromhead and Melanie Gettins - have been included from the full national side that contested the world event last year.
And at the other end of the spectrum, four newcomers - Freya Bullock, Kayla Clark, Madison Lovatt and Victoria Reyland - are set to play at international level for the first time.
"It's not a full national team, so there is more of an expectation around developing for the future," Shaw said.
"Some are in contention for the Junior White Sox and their World Series next year, while others may be in contention for the White Sox and their 2014 World Series.
"But this trip is not just about experience - it's an opportunity for us to see who can step up to that level of play. Australia were third at the world series and we were 12th and to narrow that gap, we need to widen our base of players.
"But we love winning as well and we'll be doing everything we can to come up with wins. We'll win some and lose some."
Since New Zealand began its participation in the Australian domestic competition, Shaw estimates 50-60 players have been exposed to a higher standard of play.
Because the turnover of players is so high, it's hard to get consistency of performance, but Shaw has seen some noticeable improvement this summer.
In their first jaunt across the ditch to Perth in October, the Kiwis won three straight games, including a 7-6 victory over defending champions New South Wales Firestars, with a handful of rookies on board.
That's the first time that hat-trick has been achieved in the three seasons New Zealand has entered a team. Their record over the opening two rounds stands at 4-7.
This week, they'll face the Firestars again, as well as the Victoria Titans, who they've already beaten twice this season.
But this round also promises to be the toughest yet, with many of the Australian sides benefiting from the return of their American college players during the Christmas/New Year break.
"As long as people don't get taken up with results, I'm excited by what we've achieved with our wider squad," Shaw said.
"When we come to select our next White Sox team, we'll have more information on our players and will make fewer mistakes."
New Zealand: Rebecca Bromhead, Freya Bullock, Kayla Clark, Jennifer Feret, Alex Forsyth, Melanie Gettins, Shannon Hearne, Tyneesha Houkamau, Anita Leeuw, Madison Lovatt, Brooke McManus (tests only), Kayla Rangiawha, Victoria Reyland, Beth Stavert, Gillian Wills.
Schedule: (Times are local)
Thursday: NZ Selection v West Australia Flames 1pm, NZ Selection v South Australia Starz, 3pm
Friday: NZ Selection v ACT Diamonds, 3pm
Saturday: NZ Selection v Queensland Heat 1pm, NZ Selection v Victoria Titans, 7.30pm
Sunday: NZ Selection v Australia Selection, 4.30pm
Monday: NZ Selection v Australia Selection 9.30am, NZ Selection v Australia Selection, 11.30am
- APNZ