It has been a while coming but yesterday's Railway Stakes gives trainer group one joy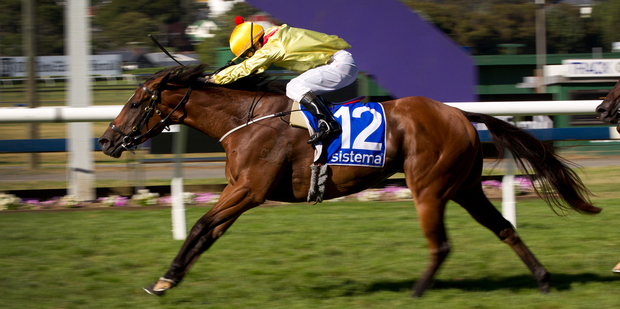 Cambridge trainer Lee Somervell is an old-time cowboy as happy at the Calgary Stampede as he is on a racecourse.
There was nowhere else on this planet he would rather have been than at Ellerslie racecourse yesterday to lead grossly under-rated mare Fleur De Lune in after winning the $200,000 Sistema Railway.
"This is the greatest thing to ever happen, to get this first group one," said a very excited Somervell.
Former Zimbabwean jockey Jason Jago was in the same category.
Each horseman said they were more delighted for the other than for themselves.
"I have at times been criticised for putting Jason on exclusively, but he has been very loyal to our stable and he's won all six races on this mare."
Jason Jago rides a few horses each morning for another Cambridge trainer Shaune Ritchie, who holds the Zimbabwean in such high personal regard he rushed to the birdcage to congratulate him.
Everyone was delighted for two of thoroughbred racing's most popular participants.
And whether or not you backed Fleur De Lune you couldn't deny the mare victory.
Her record includes five group one placings in the Mudgway Stakes (twice), Thoroughbred Breeders Stakes at Te Aroha (twice) and third to Veyron in an Easter Handicap.
Each time she has fought her heart out.
If Lee Somervell had a regret it was that part owner Ada Parnwell was not well enough to travel to Auckland for the race.
Somervell has been a quality horseman since his youth, but flagged away his trainers' licence for a time before returning to become virtually private trainer to Ada Parnwell.
Jetset Lad worked his way hard to the line to finish second, ahead of Durham Town who came from well back.
The favourite Burgundy led, but not on his own, and finished fifth.
Trainer Jason Bridgman said he felt the race was a touch too sharp for the horse.
"Quite plainly, I think he was outsprinted.
"If we'd got the rain that had been predicted and the track had been a dead 6, I think he'd have got away with it. He needs 1400m. He was three lengths in front after they had pulled up going up the hill past the winning post."
Bridgman is well aware that the least catered-for horse at the top level in New Zealand is a 1400m specialist.