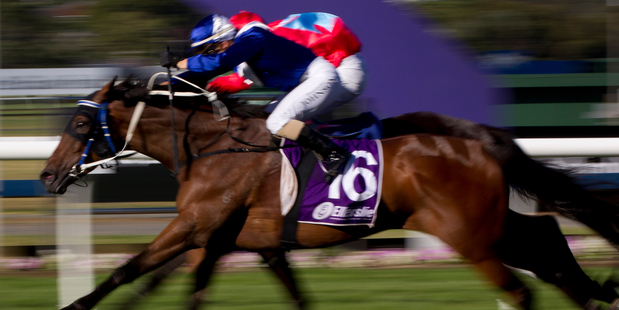 Trainers who win the City Of Auckland Cup have usually got an idea of how many winners they've trained.
Murray McKeagg thought it might have been a dozen.
It's actually immaterial because if you haven't trained 100 winners by the time you've got to lifting one of the country's best staying races, 20 previous winners is as sensational as 12. "I think it's around 12," said the 63-year-old recent product of Perth mining.
McKeagg has been back in his native New Zealand only 18 months and has only one racehorse in work - last night's Cup winner Hiace, and two unraced babies.
This was one of the big upsets in a major Ellerslie race in decades.
McKeagg said he worked in the West Australian mines for 30 years.
"I had one horse and had a placing in a stakes race at Perth."
Remarkably, he did not appear to be excited.
But he was thinking of his future.
"I'll also win the Wellington Cup with this horse and then the Auckland Cup in March."
Hiace had been trained by McKeagg's brother Brian until his return to New Zealand.
Despite a last-start win at Te Rapa, Hiace was at odds of 41 to 1 yesterday.
Andrew Calder, the winning rider at Waikato, was offered the ride again but instead chose El Soldado.
The two horses fought a desperate home-straight battle with Hiace getting the decision by a half-head.
Danielle Johnson ended up with the winning ride.
"Andrew seemed pretty good about it," said Johnson.
"When we went across the line he said: 'Good on you', you might have expected something stronger.
"The horse felt really good in his preliminary."