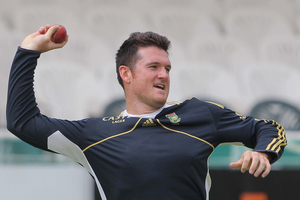 South African captain Graeme Smith has trodden a diplomatic line over the captaincy imbroglio which knocked New Zealand cricket sideways last month.
Ross Taylor, dumped as captain after the tour to Sri Lanka, is not in South Africa and will be sorely missed. Brendon McCullum makes his test captaincy debut against Smith, the most experienced leader in test history, at Newlands when the first test starts on Wednesday.
Smith admitted he had no inside information and had not spoken to any New Zealand connections about the issue.
"It's obviously not ideal and Ross is a key player for them and a big man around the squad," Smith said in his pre-test press conference today.
"If the squad is happy now they really have an opportunity to fight and have nothing to lose in this series. If it goes well and they get a good player like Ross back, then they can move forward."
He rates McCullum "a gutsy character", who will want to compete and get the most out of this series.
"If they do well it'll be a big tick in his box."
There is a strong view that underdogs New Zealand will struggle to push the test into the fifth day. Smith isn't interested in that sort of talk.
"The drama (over the captaincy) hasn't helped that perception. We're certainly not looking at it like that," he said.
"Certainly in our minds we did our work yesterday on the video and there's a lot of respect and understanding for how we want to go about it.
''We played New Zealand in New Zealand (last season) and it's not as easy as everyone says.
''If we can win it, and win well, that's what we want to do."
Newlands is South Africa's 'banker' in terms of winning test matches. Since readmission to the international game in 1992, they have played 24 tests in Cape Town, winning 16, drawing five and losing just three.
''It is the marquee test of the year. There's a great atmosphere and we love playing here," was Smith's reasoning for the success rate.
''When you've got a good record on a ground you immediately arrive with a certain confidence. We know what to expect when we get to Newlands."