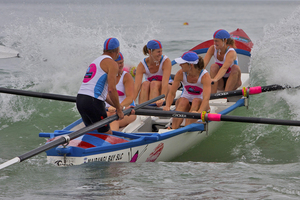 As far as the champion Mairangi Bay women's boat crew are concerned, the tide has well and truly turned on Whangamata's main beach.
It would need to. For the past couple of years, the North Shore crew have ventured south to the Coromandel township for the annual Whangamata Surf Boat Spectacular, the second round of the national series. The defending national titleholders would proceed to dominate the heats and cruise through the semifinals, only to fall over in the final.
Last year, a tricky half-metre swell was enough to cause havoc, allowing a young Orewa crew to sneak through for the win with Mount Maunganui second, but Mairangi Bay bow-rower Carmel Tolhurst reckons they'll have things sorted when the action returns on January 2.
"We've lost there in finals a few times over the last couple of years in unlucky races but we were here a few weeks ago at the Whangamata Classic and we won that against some good quality crews," Tolhurst said.
"That's left us feeling a lot more positive."
There's also a lot more on the line this season. The revamped national series, which started in Wellington in early December, will build towards a transtasman test against Australia's best crews at Waihi in February. Two crews - one male and one female - will be selected on their performances through the series.
While Piha have already got one oar on the men's spot, after a gutsy win in Wellington, Mairangi Bay's final jitters struck again in a miserable cross-chop at Paekakariki Beach in round one.
"We were stoked with how we rowed throughout the day but everything that could've gone wrong did go wrong in the final," Tolhurst explained. "We didn't have the best start, then got hit by a swell and two of our crew fell out of the boat. We had to haul them back in and we managed to fight back into contention, then broached on the way in. The only consolation is that selectors are considering all races, including the heats, in the selection for the trans-Tasman series. It was all a bit unfortunate but we've learnt a lot and hopefully we've put all that behind us now. We're definitely keen to show the selectors where we're at in Whangamata."
Red Beach and Orewa loom as likely spoilers this week too, while Mount Maunganui are also building strongly. Those three crews took the top spot in Wellington, with Mairangi Bay limping home last.
It's the Mairangi Bay pedigree that their rivals fear, however. Despite a new face this year, with Charlotte Burson replacing Nina Reid, Tolhurst, her sister Erin and the vastly experienced Sarah Woolley return from last year's campaign which featured two trips to race in Australia.
It was another Australian trip which helped Piha get a jump in the men's division this season, with sweep Mark Bourneville taking several crews to the world championships in Adelaide in early November. His national champion Piha A crew needed every inch of their racing fitness to hold off arch-rivals Titahi Bay in Wellington, however, with Titahi Bay's young tyros nearly springing a major upset.
The last time Piha were beaten in a major carnival was in Whangamata this time last year, with Titahi Bay the vanquisher that day as well.
The Whangamata round also features racing in under-23 and under-19 age groups as well, with the host club looking to continue a recent renaissance in the age grades.
- APNZ