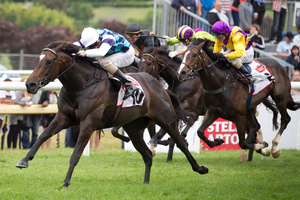 Dean Martin the actor/singer/comedian was a happy bloke with a ready laugh.
Deane Martin the horse won't be anywhere near as cheerful when he discovers unbeaten rising star Habibi is almost certain to oppose him in the $100,000 The Sound Championship Stakes, rather than running in the Royal Stakes at Ellerslie today.
That was the strong indication from co-trainer Dean Logan yesterday afternoon.
"We're not going to make that decision until the morning, but at this stage it's almost certainly going to be taking on the boys, rather than the fillies in the Royal Stakes."
The same scenario was followed on Boxing Day when the Logans ran Habibi in the Great Northern Guineas against allcomers, rather than in the fillies-only Eight Carat Classic.
This time it wasn't only the perception of perhaps a slightly easier option, but the barrier draw.
Habibi has drawn barrier 11 in both races and while neither is desirable, the 2000m barrier of the Royal Stakes is far more problematic than the gate 11 at 2100m in the Championship Stakes.
There is a much shorter run to the bend out of the home straight from the 2000m and horses drawn wide there often get into trouble.
"There is a decent chance of getting flushed wide from the 2000m," said Dean Logan.
He says the stable is delighted with the way Habibi came through her dashing Boxing Day victory.
"She's very happy, she's bright and bouncy today, so there is no reason not to run her again.
"We couldn't be happier."
Deane Martin is a highly promising stayer and deserves to be rated the danger to Habibi, who will start a very short-priced favourite. Fix will not be at much better odds in the $100,000 New Zealand Bloodstock Royal Stakes with no Habibi.
Fix cruised away with the Eight Carat Classic, impressing greatly with the way she stepped up a gear in the home straight. There is no reason to suspect Fix will not have come through that race well.
Soriano chased her home at Ellerslie and should be the main danger.