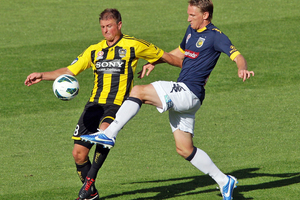 Wellington Phoenix centre back Ben Sigmund will be keeping a close eye on Brisbane striker Besart Berisha tonight.
The lightning quick Brisbane frontman has bagged five goals this season and Sigmund and fellow central defender Andrew Durante will have to keep the Albanian international in check when the Phoenix meet the Roar at Suncorp Stadium in their New Year's Day encounter.
Sigmund and Durante are one of the most reliable defensive pairings in the A-League but Sigmund said Berisha was a special player.
"He's got good movement. He gets in to the box well, keeps the ball very well but you just sort of treat them all the same. Just make sure you've got a lot of respect for them and mark them tight and as I say, I just don't let them get too far out of your sight because he can put them in the back of the net pretty quickly," Sigmund said.
"I think Archie Thompson and Marco Rojas would be probably the two quickest [players] but he's not far away. But it's more his movement. He sort of sits right on the edge of being onside to being offside and if he gets that line right he can break you in half pretty quick."
Suncorp Stadium is another one of those venues where the sixth-placed Phoenix have an unhappy record.
In fact, it's so bad they've actually never won there before in seven previous visits with only two draws to show for their efforts beside five losses, while the Phoenix also lost an away game against the Roar on the Gold Coast in the 2010-2011 season.
Despite being two-time defending champions, the Roar have struggled this season and sit eighth on the A-League ladder after 13 rounds and are in need of some momentum to kickstart their campaign.
They've changed their coach recently and appointed Mike Mulvey, relieving Rado Vidosic of his post as the latter was moved to a technical director role.
Brisbane did beat Adelaide 1-0 last week but they've been wildly inconsistent and Sigmund said they would be a threat.
"They're a great football team and they're tough to break down and if you don't keep the ball to yourself you can be on the end of a bit of a hiding."
The Phoenix of course are coming off an up-and-down 3-2 victory over the Melbourne Heart where they battled back from 2-0 down to register a vital three points.
Wins like that can often galvanise a side and Sigmund said it had given the Phoenix even more self-belief.
"The boys were pretty stoked and it was a great comeback from behind and we kind of went down 2-0 but felt we didn't deserve it and we just wanted to make amends with it. I think that gives a lot of confidence to everyone and especially seeing the young boys do what they did. They were fantastic and hopefully we can just get better and better as the season goes on."
Those young boys that Sigmund is referring to are Tyler Boyd and Louis Fenton and the pair have started the past two games and have given the side plenty of energy on attack.
Fenton got his name on the scoresheet against the Heart, while Boyd has looked threatening and is just lacking a killer blow.
If the Phoenix want to turn around their dire record in Queensland, some magic from Fenton and Boyd could be just the catalyst.
- APNZ