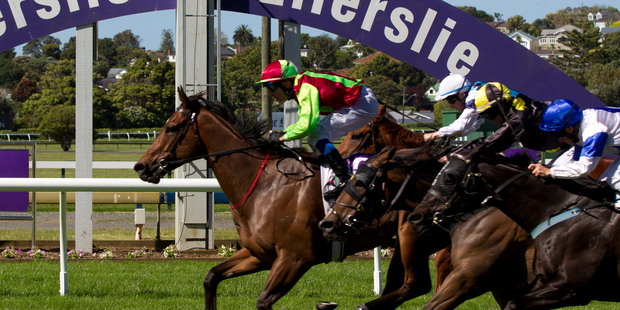 Bonecrusher, Balmerino, Sunline. Like all sports, there is nothing like star power to pull in the punters.
When British super stallion Frankel delayed his entry to stud this year it rejuvenated racing in Britain.
Every time he placed his hoof on a course, attendances shot up 20 per cent, CNN reported recently.
Black Caviar's arrival from Australia saw hordes descend on Royal Ascot in pink and grey outfits, matching the colours of the great mare's silks.
Twitter accounts and Facebook pages gave fans access to these new equine stars and the industry has seen a boon, with TV figures also sharply arriving. This year's Grand National saw viewing figures up by 2 million to 11 million.
While the national hunt (steeplechasing) has always had a huge fan base in Britain and Ireland, where it ranks second to football as a spectator sport, flat racing has long been in thrall to its breeding industry. The cream of each year's 3YO crop are hurried off to stud to make megabucks for their owners, while stripping the sport of the very stars which would help it flourish.
It is akin to exciting new All Blacks rushing off to coaching jobs in Japan at the end of their first season of Super Rugby.
So Frankel's delay of a hugely lucrative stud career was a huge boost to the sport.
In New Zealand, it is the multi-million thoroughbred export industry, which sees our young stars shuttled off by the planeload to Singapore, Hong Kong and Australia, chasing the big bucks for their well-heeled new owners.
So when a new potential new Sunline or Bonecrusher arrives on the scene, you'd think the New Zealand Thoroughbred Racing welcome mat would be hurriedly dusted off and curled out from the carpark to the horse box.
Not so at Ellerslie.
Anyone who saw Mosse surge his way, Kiwi-like, through the field in the group three Concorde Handicap at Ellerslie on December 8, would have known they were witnessing something special.
Unbeaten in five starts, this brilliant sprinter has been balloted out of the group one Sistema Railway Stakes, the headline event at Ellerslie's glamour New Year's Day meeting on Tuesday.
Mosse has been the $3.80 favourite on the fixed odds futures board for the big race since it opened.
Under the set weight and penalty conditions, Mosse is second topweight for the Railway with 56kg but, with the starting order decided on ratings, his 91 points did not make the cut for the 14-horse field and he is not first but second ballot.
Mosse received just a five-point increase in ratings rise for his stunning Concorde win, provoking some correspondence between the New Zealand Trainers' Association and New Zealand Thoroughbred Racing. When compared to other horses' ratings shifts, it was suggested that Mosse's five-point rise was inadequate.
When Mosse's likely absence from the big race became a probability, Auckland Racing Club suggested to the connections that they start the horse in last Wednesday's Hallmark Stud Newmarket Handicap, which carried an automatic entry into the Railway for the first two finishers.
But trainer John Bell declined, not wishing to burden the horse with just a six-day break into the Railway, and decided to take his chances.
To make matters worse, Kitt Ann Miss, who was rated 89 before the Newmarket, leapfrogged Mosse in the Railway order by finishing second, meaning Mosse now needs to two defections to make the field.
Even if he does race at Ellerslie, the O'Reilly gelding will probably join the foreign legion. Bell is reported to have fielded some big offers from Australia and Hong Kong and he indicated there's a strong chance Mosse will be sold.