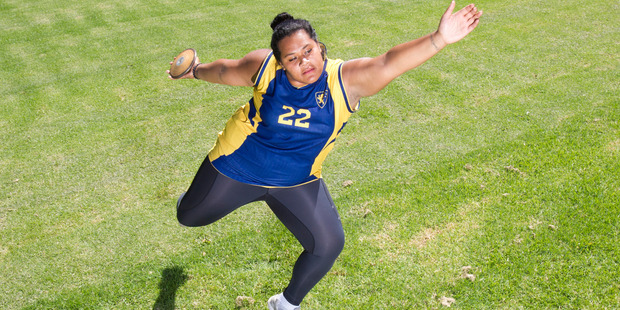 As New Zealand seeks new throwing heroines to rival Val Adams and Beatrice Faumuina, it's hard to look past the potential of Siositina Hakeai.
Known as Tina, the 18-year-old is fresh out of Auckland Girls' Grammar School. She wants to attend the Commonwealth Games in Glasgow in 18 months. Statistics suggest she could win a medal.
Hakeai threw a personal best in the discus of 56.17m to claim fourth at July's junior world championships in Barcelona. She extended that mark to 56.62m at a meet this month, ranking her the world's 104th best women's discus thrower this year. Adding 1.85m to her best throw would see her pass the bronze medal distance at the Delhi Commonwealth Games.
Passing 56m means she has already exceeded the expected Glasgow 2014 qualifying mark. Her only genuine local competition is 22-year-old Te Rina Keenan, who recently threw 56.45m after returning from an athletics scholarship at the University of Hawaii.
To put those efforts in context, Faumuina has the longest discus throw by a New Zealand woman.
Her 68.52m was set in Oslo a month before she won the 1997 world championships in Athens, aged 22. The best throw this year was 70.69m by Russian Darya Pishchalnikova.
Hakeai first came to prominence at the Waipu Highland Games almost three years ago. Then 16, she stuck a pitchfork into a sheaf of hay - the equivalent of about half a bale, or just over 6kg - and allegedly flicked it over an eight-metre high bar.
She went on to become the first student to win an Auckland secondary schools senior athletics title four years in a row; Adams won three. Hakeai has since been helped by Sir John Walker's Find Your Field Of Dreams foundation with funding to train and compete.
Hakeai has turned down numerous American university athletics scholarships, notably from renowned institutions such as UCLA and Texas. They regularly offered full board and accommodation, business-class return airfares three times a year, a family trip, plus flights anywhere in the world to compete.
"I don't think I'd do well overseas," Hakeai says. "A lot of athletes do well with their studies but not necessarily their sport. My goal at the moment is to medal at the Commonwealth Games. I've been inspired by Val [Adams] who went through a lot of adversity, like being away from family and friends, to get better. I know the basics but I need to step up to elite level."
Hakeai is a family-oriented person, so much so she has the names of her mother and father tattooed on each wrist.
"She believes her family and church support groups will supply her with more inspiration than a university thousands of kilometres away," says coach Nigel Edwards, who runs the Find Your Field Of Dreams throwing programme which includes David and Robina Tua's 14-year-old son Kaynan.
"She's never smoked, drunk alcohol or done drugs. We want athletes who seek pure excellence. Tina hasn't decided what to do after school but she hasn't reached the standard to go professional just yet."
Meanwhile, shot put prodigy Jacko Gill has had a setback trying to qualify for the 2013 world championships in Moscow. He injured a foot exiting the throwing circle in his most recent attempt on December 11. X-rays showed there is unlikely to be any lasting ligament or tendon damage.
Gill is expected to be back throwing in early January. He needs an extra 5cm to set the world championship B standard of 20.10m, after a 20.05m effort last month.