New board, settlement of legal stand-off between sport's two arms clear way to what fans are waiting for.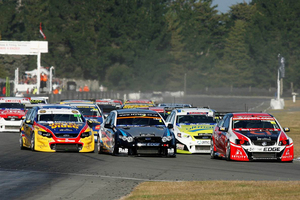 Fans of motorsport, and V8 racing in particular, could be in for a treat in the New Year. After a year of he-said-she-said, and a lot of finger-pointing, things may have taken a turn for the better.
The first hurdle, and probably the biggest, has been successfully negotiated and the legal stoush that's been running in the background of the sport has been resolved with immediate effect. This partly came about through a new board of directors being elected to the New Zealand Vee Eight Entrants Group, the company representing the interests of NZV8 racecar owners.
The previous directors stood down at the company's annual general meeting this month and did not offer themselves for re-election. The new board comprises prominent long-term motor racing identities Lyall Williamson and Greg Lancaster, along with current V8 Challenge Cup co-ordinator Stephen Gillard.
"It's early days yet and we've still got a lot to sort out," said Williamson. "In the end [V8 racing] all needs to be under one roof and that's what our goal is.
"It's not without problems and some are still worried about the direction we're going, but I don't think there are any other options, other than putting everything back together again and getting it to work properly."
The new directors have been charged with negotiating a multi-year agreement with V8 SuperTourers for NZV8s to be a major support category for V8 SuperTourers, including ensuring parity between NZV8 cars.
They'll also be looking at reducing the cost of competing in NZV8s and producing a long-term category plan for consideration by NZV8 shareholders by May 31, 2013.
"Concurrently with reaching the agreement with V8 SuperTourers, communication with shareholders is being addressed commencing with them being canvassed for their views on performance parity and competition costs reduction," said chairman Lancaster.
"NZV8 is delighted to have established this rapport with V8 SuperTourers who are leading New Zealand motorsport into a new era.
"The founders of V8 SuperTourers have done a remarkable job to develop their idea from the drawing board to what we see today in only two years and their efforts have dramatically raised the profile of V8 racing in this country.
"We don't expect to see significant change on track until the later meetings of 2013, and with the first fruits of the new business plan in 2015.
"We are, after all, only three weeks out from the first outing of 2013 at Teretonga."
Motorsport New Zealand (MSNZ) will be relieved that progress is being made at least in the short term.
"I haven't seen the full details of the agreement between the two parties but my understanding is that the legal action issues have been resolved," said MSNZ general manager Brian Budd.
"The sport has a meeting with NZV8s and V8 SuperTourers on January 7 in Wellington. That's to discuss the way forward with tin-top V8 racing and ultimately the shape of the sport's championship season moving forward."
It's great news the march towards sorting out having just one V8 championship is under way and a collective sigh of relief can be heard around the country. There is still a fair amount of work to be done but there's a bloody great shining light at the end of the tunnel at last, and the CEO of V8 SuperTourers, Didier Debae, is looking forward to going racing.
"It's good that [the legal action is] over and dusted really," he said. "At least now people can concentrate on things racing. Discussions are now about how to get parity with the V8 Challenge Cup cars and the new NZV8 car and sort out all the rules so people can all go back to racing.
"Who will be New Zealand V8 champion is for the board to figure out in the future. This first step was all about the court case and resolving those problems.
"At the grids they'll be full now and [be able to] concentrate on the racing and not have to worry about court cases any more."

2013 V8ST calendar
February 16-17 Sprint race event, Hampton Downs.
March 9-10 Sprint race event, circuit TBC.
May 25-26 Sprint Race event, Pukekohe Park.
September 1Father's Day 400, Taupo.
October 19-20 Ice Breaker, Hampton Downs.
November 9-10 South Island Spring Festival, circuit TBC.
December 7-8 Pukekohe 500, Pukekohe Park.