Ashburton driver gives punters the tip by trekking to Westport, rather than home track.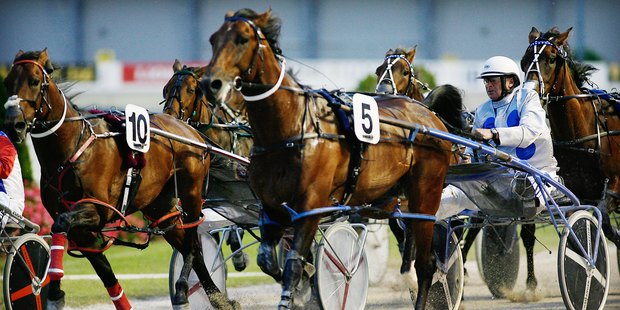 Ricky May isn't just sure he is on the horse to beat in today's Westport Cup - he says he is driving for the stable to beat all day.
May will partner Jason Rulz in the $18,000 grass track cup at the famous annual meeting, which also doubles as one of the earliest-starting race meetings of the season with its 10.40am kick off.
Jason Rulz is trained by Greg and Nina Hope who have set him for the race but have also engaged May to partner 10 others of their 14-strong team today.
"They have a great bunch going over there so I said I would drive them all," said May.
"And I think they can win quite a few, especially the cup."
May has always liked the feel of Jason Rulz and believes he should have won the last race on New Zealand Cup Day.
But his real forte is grass track racing, where he has had 12 starts for five wins and four placings, including a win at Westport.
"And that can be quite important because it is a real horse-for-courses track," explains May.
"It has a sand base and some horses don't like it but he does."
One concern May does have with the track is if it gets too heavy.
"He has actually won on a wet track before so I don't think it would bother him but over 3200m it makes it a very hard race for any horse.
"Still, he has a lot going for him and he has been set for this race all along so he is clearly the one to beat as far as I can see."
The field is a good one though, with last year's winner Falcon Crown and rugged little four-year-old Jay Bees Grin adding metropolitan-class depth.
May favours Nicky's Passion in race 10 as the next best of his Hope-trained drives.
"He will be hard to beat and they quite like all the maidens they are taking over as well.
"But if I have to go for one of them it would be Alta Tallyho [race five]. He has had a short break after racing in strong fields and is better than maidens."
May's trek to Westport means he will miss his almost local meeting at Ashburton, where they also host their annual cup.
That race changed complexion when Major Mark won at Addington last Friday night, earning himself a re-handicap for today's 3200m feature.
Major Mark would have been the one to beat from his original 10m handicap but now goes back to the 25m mark.
That puts a lot more traffic between him and the front of the field on a track where it can be very hard to make ground, even over 3200m.
That will aid the likes of Ohoka Texas, Glencoe VC and Four Starzzz Flash.
One of the other key clashes at Ashburton pits Highview Teejay against Smiling Star in race five.