Gregor Paul summarises the best and worst of the rugby year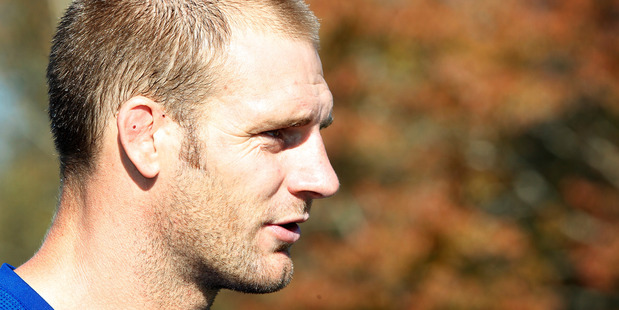 Best Decision - Making Craig Clarke captain of the Chiefs. The big lock was a classic journeyman until this year, but captaincy shook something loose. Measured, loyal and fiercely brave - he played the Super Rugby final with a badly damaged knee - Clarke was the light by which the Chiefs found their way.
Second Best Decision - Giving Ma'a Nonu June off to recover. Nonu was playing on empty when he returned from Japan and was just about dead on his feet. The All Blacks picked him for the Irish series, didn't play him and by August had their world class second-five back.
Worst Decision - Graham Henry moving into the Pumas camp - first as a coaching adviser to the coaches, then evolving into something more hands-on. When he came into the All Black changing room after the test in Wellington, the reception, to say the least, was cool.
Second Worst Decision - Andrew Hore trying to 'clear out' Bradley Davies five metres from an early ruck in Cardiff. His choice of technique - a stiff arm to the chops from behind - lacked a little finesse as well.
Most Confusing Decision - Combined award to all the judicial hearings. Here's an idea; simply make it up as you go along. Oh, that's right, that already happens. Dean Greyling gets two weeks, Hore gets eight, Rob Simmons gets eight, Scott Higginbotham gets four ... Note to IRB - check Homer Simpson's availability to run the judicial system, he'd do a better job.
Biggest Surprise - That England could play high tempo, wide rugby, as they did to beat the All Blacks.
No Surprise At All - That Sonny Bill Williams would walk away from rugby. There is a predictability to his unpredictability. It's a bit odd, too, that he chose to announce his original decision to sign with the NZRU on The Footy Show, but, when he announced his return to the NRL, he spent most of his time lamenting he wasn't playing rugby any more.
Dirtiest Bastard Award - Dean Greyling sees off Scott Higginbotham - just. Both took cheap shots at Richie McCaw.
Best Flip-flop - Will Genia had all but signed with the Western Force and told the Reds management of his intention to leave. But, in the aftermath of their first victory at Eden Park, he changed his mind, rang Reds coach Ewen McKenzie once they got back to Brisbane and signed the extension.
Worst Flip-flop - Nonu met new Blues coach John Kirwan in mid-September and supposedly made a handshake deal to remain with the franchise in 2013. All hunky-dory except Nonu decided while with the All Blacks that shifting to the Highlanders sounded more of a laugh. It's unlikely Nonu received a Christmas card from Kirwan.
Biggest Social Media Blunder - New IRB boss Brett Gosper tweeting that Adam Thomson's sentence for stamping on Alasdair Strokosch would need to be reviewed. He gave the matter all of six seconds thought and besides, why was someone in his position airing personal views on such an open channel?
Second Biggest Social Media Blunder - Quade Cooper, in Australia recovering from injury while his team-mates were in South Africa, tweeted that the Wallaby environment was toxic. Maybe it was - but probably best not to share it so publicly.
Recidivist Offender Award - John Mitchell has a curious knack of upsetting the players he coaches. There were several senior All Blacks - most notably Anton Oliver and Christian Cullen - who were left cold by his non-negotiable ways. When he shifted to the Western Force, there were widespread complaints that led to an independent investigation and then there were more allegations in June from players at the Lions. His old school ways are not the modern player's cup of tea.
Best Single Act - Dan Carter's late drop goal to beat Ireland in Christchurch. Took a bit of composure and balls to land the match-winner.
Worst Single Act - Manu Tuilagi's taunting of the All Blacks when he scored England's last try at Twickenham. Having intercepted and, with a clear run to the line and no one chasing, Tuilagi walked before touching down. He may live to regret that.
Best Collective Performance - The Chiefs' defeat of the Crusaders in the Super Rugby semifinal - committed, relentless, accurate and classy.
Second Best Collective Performance - The All Blacks' defeat of South Africa in Soweto. They were teetering in the first half, only to unleash hell in the second.
Easiest Victory - All Black coach Steve Hansen's verbal destruction of Wallabies coach Robbie Deans. Hansen just kept landing solid blows that left Deans with nowhere to go and nothing to say. One of his best came after the 22-0 defeat of the Wallabies at Eden Park. "Why don't you give me a loaded gun? Why don't you just pull the trigger yourself? We all know the answer to that, so I'm not even going to go there." - his answer when asked if any All Black coach would have survived 12 losses out of 15 games to the Wallabies, as has been the fate of Deans.
Biggest Meltdown - The financial collapse of the Otago Rugby Union. They reached the brink of insolvency and worse, the board appeared strangely reluctant to take any responsibility for the mess. It was a sorry saga of ego, ambition and chronically bad fiscal management.
Second Biggest Meltdown - The Blues' season. Its started badly, got worse, then really went downhill before tailing off again. They were talking in February of their ambition to win the title after reaching the semifinals in 2011 but, by April, they were scrapping for the wooden spoon with the Lions and advertising for a new coach.
Biggest Loss - Jerome Kaino was missed by the Blues and All Blacks. He wasn't particularly missed by the Wallabies, who were sick of him this time last year.
The Lucky Git Award - Ali Williams played some ordinary rugby to retain an All Black place. Didn't play any rugby for two months and still claimed an All Black jersey.
The Not So Lucky Git Award - Richard Kahui had to endure yet more shoulder surgery - that's four times now, two on each shoulder. Amazingly, he now has neither real nor metaphorical chips on either shoulder.
It Seemed Like A Good Idea At The Time Award - The North Island versus South Island game during the June test window was a neat idea as a means of raising money to help Otago pay off debt. But in practical terms, it was a bit lame - a game that failed to capture the imagination.