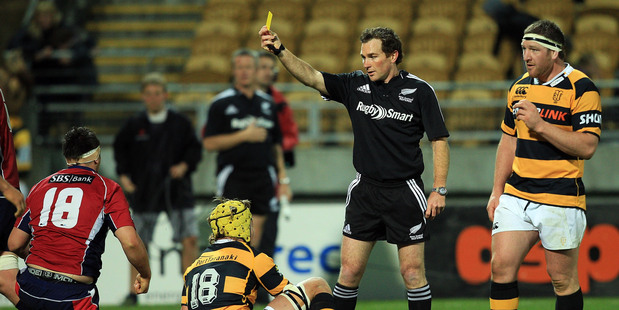 If rugby referee Glen Jackson penned a 'Dear Santa' letter last Christmas, he's received his present.
Super Rugby. Tick. ITM Cup final. Tick. Northern autumn internationals. Tick. Tick. All for judging when you should and shouldn't blow a whistle.
The New Zealand Rugby Union believes Jackson gets such timing largely right. The 37-year-old classy former first five-eighths has become a poster boy for the transition from player to officiator.
He completed his English referee exams while still at Saracens, then bounded up the ladder from a school match at Tauranga's Bethlehem College to whistling tests in just over two years.
Jackson made his international refereeing debut at Twickenham on November 10 when England beat Fiji 54-12 in front of an 82,000 capacity crowd. In a Hollywood-like segue, it was the venue where Jackson finished his professional career in 2010 as part of a losing Saracens XV against Leicester in the Guinness Premiership final.
"I was really nervous going back to Twickenham and I thought: 'don't cock this up'," Jackson says. "There's the pressure of the crowd to deal with but it's like goalkicking - you only hear it if you want to. It's better to block it out because you never hear too many positives. It's not like the fans have the pom-poms out for you."
Arguably Jackson faced more pressure the following week in Tbilisi where he refereed the match between hosts Georgia (ranked 17) and Japan (15). Not only was it a rankings grudge match but he gets on well with both coaches. He's known Georgian coach Milton Haig since his Tauranga days and Japan coach Eddie Jones from his time at Saracens. Japan won 25-22 in what Jackson describes as a "difficult, intense game".
Jackson's fitness regime was put to the test too: "We had this traditional banquet the night before the test. The players, coaches, referees and others associated with the match were all invited. I'll tell you what, those Georgians can bloody eat. The food just kept coming. Barbecuing lamb and pork seems to be a speciality and there were heaps of dumplings. I just treated it as 'carbo loading' before the match.
"They also claimed to have invented wine, so there was plenty of that too. The trouble is, such an occasion is hard to enjoy before the game," Jackson laughs.
Such excess must be tempting, given Jackson's strict exercise discipline. To stay alert and make correct decisions, he needs to be fitter than he was as a player.
"I've lost 7kg [down to 83kg] since I've been doing it. I run a lot rather than doing the heavy gym work I did as a player. The game is quicker these days and the ball is in play longer. I run about 8km during a match, about the same as a fullback. I also need to concentrate more. Even at first-five, there were times in the game when you could switch off."
Jackson has sampled few controversies since refereeing at the top level. The decision not to award a penalty try to Auckland during the ITM Cup final, for what many considered a deliberate Canterbury knock-on, has been his trickiest moment. He didn't have the benefits of a television match official so instead sin-binned the offender, wing Telusa Veainu.
"In that situation, you've got to go with gut instinct," Jackson says.
He's found the refereeing fraternity helpful to get through such stress.
"They've all been bloody good. Bryce Lawrence [with whom Jackson used to flat] has helped immensely. He'd be the first to put his hand up to help anyone. Lyndon Bray and (NZRU high performance referees coach) Neville McAlister have also been brilliant."
Plenty of the current professional crop played with or against Jackson during his career as a Bay of Plenty, Chiefs, New Zealand Maori and Saracens representative.
Jackson enjoys the banter that comes with his whistle.
"I haven't experienced anything too bad from players. Andrew Hore often makes a few wisecracks, especially when I'm telling him how to scrummage but that's what I always enjoyed about footy; it's full of witty fellas."
One of the more taxing sides to the job is the time spent away from home. On his 2010 return from Saracens, Jackson, wife Fiona and their two children settled on to a five-acre kiwifruit/avocado block in the Bay of Plenty. He estimates he's spent 150 nights away from home this year.
Still, while referees might cop it from time to time, it hasn't stopped son Payton being proud of what Dad does for a living. A new entrant at Omokoroa No1 School, he has been found by his mum (a part-time teacher) parading around the playground pulling a yellow card out of his pocket.