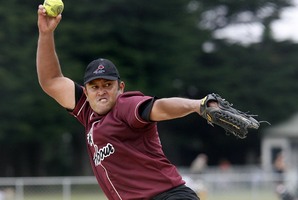 Jarrad Martin will strike a blow for the middle-aged in the world softball championships at Auckland's North Harbour in March.
The Kiwi softball legend, from Taranaki, will be 40 when he lines up at his fifth world championships. Martin is aiming for a fourth title and revenge for the 2009 grand-final defeat against Australia in Canada.
The Waitara-bred Martin, an electrical contractor and father of five, was a key figure at Black Sox coach Eddie Kohlhase's initial world series camp in Auckland last weekend.
The captain of the victorious 2004 team took a few questions from the Herald.
What was the aim of this camp?
To re-establish a team culture. We've had a sporadic few years and needed to get the guys together, to enjoy each other's company. Since 2009 a few senior members had the option to take leave away from the game, and there was some different personnel in 2010, younger guys.
They tried to get a few more guys up to international level. And there had been the baseball problem to deal with.
In terms of culture, what was the theme?
We had forgotten who we are. We are ambassadors for our sport and represent the people of New Zealand. Every player got the chance to speak, which wasn't easy for some. Everyone said they wanted to be a world champion.
A world series at 40 - can you believe it?
I can because I had the drive to be part of a fifth world-series team. There have been similar examples - Marty Grant at the last tournament and Kevin Herlihy in 1984. If you are passionate then it is achievable. Anyone can do it. I think it's possible to keep going until the mid-40s.
Australia were hardly a factor when you broke into the New Zealand side ...
I remember playing them in 1991, in eight tests, and we won them all. I was also the captain in 2001 when they beat us for the first time.
Ouch ... what's been going on over there?
A few Kiwis headed there and played a big part, especially Kere Johanson and Loren Algar, the pitching coach. Kere was a guy who always had the gift of the gab and Loren has done a great job with the two young pitchers over there.
There's no ill feeling and they are still great guys and friends of mine - they could have been used here but New Zealand didn't choose to go down that path.
What about the controversy surrounding your teammates Brad Rona and Ben Enoka, who flirted with Auckland club baseball?
I spoke to the players who were affected by it ... I think softball can leverage off baseball. I never had the baseball opportunity and maybe I was even a bit envious.
Who is the best pitcher you've faced?
Brad Underwood, the Canadian, in the 1990s. He just threw the ball harder than I had seen. It's harder to judge New Zealand pitchers because I have seen them so often.
Career highlight?
The 1996 world series win. New Zealand was desperate to get the title back but had been the bridesmaid since 1984. We went through unbeaten and nobody really got close to us. In those days we had to contribute to our expenses ... we all had to put in $500 and got it back in daily allowances. We are lucky these days being supported by Sport NZ.
Worst moment?
Snapping my Achilles in a club game [for Poneke-Kilbirnie] early this year. I wasn't too sure if I'd make the world series. I heard all these stories about people getting back on the horse too early, rushing back and snapping it again.
Your childhood hero?
My father [Murray Martin]. He's a senior golf champion and is in the New Zealand team that has just come back from the Asia Pacific Cup in Hong Kong. He played senior club rugby and softball for Taranaki, and I followed him everywhere as a kid. I've grown up around sport and maybe it is in the bloodlines.
Is there anything you would like to change in softball?
We need to be stronger at the kids' level. The main centres are OK but it has dropped off in places like Taranaki and Manawatu. That is where the game starts.
Is there another world series in your tank?
I keep saying to my wife that this will be the last one but who knows, especially since they will be held every two years from now on. It will come down to family and business factors.