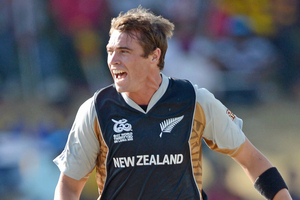 New Zealand need every bit of good luck they can grasp right now, so here's one small offering.
Vernon Philander, South Africa's metronomic seamer, is a serious doubt for the first test at Cape Town starting on January 2.
Philander took 21 wickets in three tests in New Zealand last summer, and has taken 67 at 17 runs apiece from 12 tests altogether.
The third wheel in South Africa's ace pace unit, who's had a recurrence of a left hamstring injury, is expected to be sidelined for 10 to 14 days, so the timeline is tight.
But that's far outweighed by New Zealand losing Tim Southee for both tests. His thumb injury, received fielding for Northern Districts in Wellington this week, means he's gone for six to eight weeks.
Just turned 24, Southee is New Zealand's leading fast-medium operator, coming off strong form in Sri Lanka, and he was relishing the idea of duelling with Philander, Morne Morkel and Dale Steyn.
Whoever replaces him, New Zealand will be, with due respect, the poorer; their chances of being competitive against the world's No 1 team the slimmer. That said, a seasoned trio of Chris Martin, Trent Boult and Doug Bracewell, if all on song, is not the worst.
Now consider that since the T20 and test squads for South Africa were named, Southee is the third seamer to withdraw after being named.
Young Central Districts quick Adam Milne was in, then out, of the T20 squad through an Achilles tendon injury. Veteran Mark Gillespie was stood up, then sat down again with a side strain the day after being named. Michael Bates became third cab off the rank for the T20 series.
But if you think New Zealand has it bad, consider Australia's fast bowling plight. Six frontline new ball bowlers are benched right now through various ailments.
Ahead of their Boxing Day test against Sri Lanka in Melbourne, this is the list: James Pattinson (side strain), Patrick Cummins (back), Josh Hazlewood (foot), Ben Hilfenhaus (side strain), Ryan Harris (shoulder) and John Hastings (back).
Thank goodness, the Aussies must think, for the indefatigable Peter Siddle, who's also their best fast-medium operator, and tall leftie Mitchell Starc, who seems to have an aversion to injury.
If you fear the worst of New Zealand's prospects against South Africa, and are proved right, think of what lies ahead. England, world No 2, cock-a-hoop after toppling India on the sub-continent 2-1, arrive early February.
Should things indeed go badly pear-shaped for New Zealand, the contrast between the two will also be stark, this time with a k.
From Nagpur, a dead, brown track in the middle of India, to the leafy green of University Oval in Dunedin. And don't they just hate pitches with help for the seamers.
They'll be led by one of the world's best batsmen in Alastair Cook, with other top-ranking performers in Jonathan Trott, Kevin Pietersen and Ian Bell, while Jimmy Anderson will spearhead a quality fast-medium attack with Graeme Swann and a revitalised Monty Panesar, the spin men, and a fine wicketkeeper-batsman in Matt Prior.
It shapes up as a daunting three months for new skipper Brendon McCullum. No Vettori, no Taylor and now no Southee, a mix of injury and captaincy fallout. Who'd have picked it? McCullum could be forgiven for hanging out for one decent break.