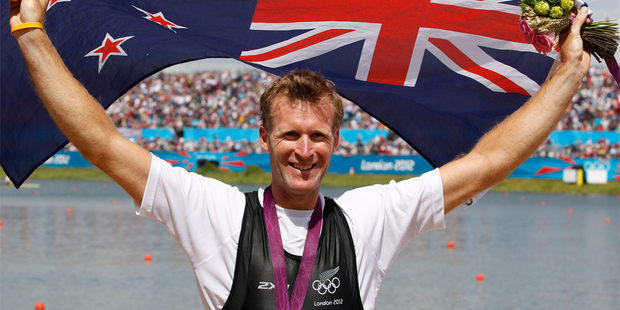 Olympic gold medallist Mahe Drysdale will defend his single sculls title at the Rio Olympics after today announcing his intention to continue in the sport until 2016.
The 34-year-old will take a six-month sabbatical from rowing and will be back in the boat at Lake Karapiro for trials in July 2013, aiming to gain selection for the following month's World Championships in South Korea.
The news is something of a turnaround, given Drysdale had previously spoken of the difficulty of committing to another four-year cycle and many thought his retirement was imminent.
"While I have achieved everything I have ever wanted to in rowing and it culminated in Olympic Gold in London, I have found the drive, desire and determination to go after a second Olympic Gold in Rio,'' Drysdale said.
The sabbatical will provide a much-need break from rowing before Drysdale begins to build on his success in London, but it will see him miss the world cup regattas earlier in the year.
"After 12 solid years and three consecutive Olympic campaigns, it is time to take some time out of rowing to recharge physically and mentally. I have thoroughly thought through my options, asking and answering a number of questions and consulting a number of people along the way.''
Rowing New Zealand chief executive Simon Peterson said he fully supported Drysdale's decision to take a sabbatical.
"It is a well deserved break and it will ensure he is fresh and ready for the campaign to Rio. We are supportive of Mahe's desire to keep competing at the top level, and this break will give him the best chance to deliver a world class performance in Rio.''
Peterson warned, however, Drysdale would not be promised a seat at next year's World Championships, and he will have to earn the chance to add to his five world titles.
"He will just be eligible for selection and will need to prove he is the best person for the boat and can produce the results we expect of our squad.''
Drysdale thanked Rowing NZ for the support in allowing him the time to come to his decision, adding he was aware he had to earn back his spot.
"I understand my place in the team is no way secure and I, like every other member of the New Zealand Rowing team, will have to prove myself to the selectors on my return in July and right through to 2016.
"This decision has always revolved around one question: `what will it take to win in Rio?' I believe this will give me my best chance of delivering my desired goal in Rio.
"Rowing is a tough sport, over the past 12 years I have trained at least twice a day, six days a week, 11 months each year. This break will give me a change to travel and complete some alternative challenges.''
Among those challenges include February's Coast to Coast multisport race and an Ironman in May. Drysdale also hopes to participate in the New Zealand PGA Championship golf tournament as well as race at the Royal Henley Regatta, an annual rowing event on the River Thames.
Six out of New Zealand's nine rowing Olympic medallists will be back into training by January 2013, while the remaining three - Drysdale, Juliette Haigh and Storm Uru - will pursue new challenges.
Haigh retired earlier in December, and Uru is taking a break from rowing to gain work experience. He hopes to complete an MBA at Cambridge University, where he will continue his rowing and will trial for the famed Boat Race.
- APNZ