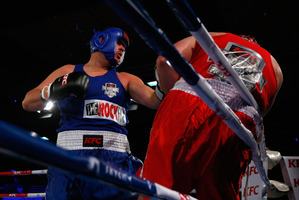 The Price is Wrong
The Fight for Life provided plenty of entertainment in the ring on Saturday (see Ranger v Bird) but one of the highlights was ringside interviewer Tracey Donaldson, of the Rock, talking to Jesse Ryder.
"Joined by Steve Price, Steve, you've been described as the most loved Australian in New Zealand sporting history. That has got to be the ultimate compliment?"
A stunned Ryder could only laugh off the mix-up before the camera cut away to a shot of the ring. A few seconds later... "Jesse Ryder, how are you doing? You've had an amazing return to form lately. It must have been just unbelievable?" Unbelievable, alright.
Lottery winners' odd request
An Iowa couple who won a US$202 million ($242 million) lottery draw in the United States have promised to donate $3 million to their son's high school for a new American football stadium on one condition - that the opposition dressing room is painted pink. "I was sort of half joking and half not, I suppose, but they said they'd do it," Mary Lohse told AP. "It's supposed to put them in a certain soft frame of mind."
The idea is not new. The University of Iowa painted its visitor's locker room at Kinnick Stadium pink in the hope opponents would feel less masculine before heading out on to the field.
Critics said the use of pink demeans women, perpetuates offensive stereotypes about women and homosexuality, and puts the university in the uncomfortable position of tacitly supporting those messages.
Don't dope says Pope
Pope Benedict XVI has weighed in on performance-enhancing drugs in sport, telling Italy's Olympic team this week not to be tempted by doping, saying it was a "blind alley" that isn't worthy of such models of perseverance, sacrifice and human ability.
While congratulating the Italian team on their 28 medals, the 85-year-old German pontiff said sport was beneficial for individuals and society, requiring loyalty, respect and altruism as well as patience and humility "which is never applauded but is the secret of victory".
And while victory is a worthy goal, he said: "Pressure to win good results should never prompt you to take shortcuts as happens with doping." So the Pope says cheating is bad. He didn't mention his stance on corruption or diving, however, which are both rife in Italian football.
The Grinch
Castleford fullback Richard Owen was sentenced this month for assaulting a man dressed as Santa Claus in the early hours of Christmas Day last year. Owen was sentenced to 200 hours of community service after he knocked out Santa, breaking his jaw. In a statement to supporters, Owen said: "After enduring a year out from playing with my career-threatening leg injury, I went into a dark period of my life. I let my family, club and all its wonderful supporters down. I am not proud of what happened and offer no excuses but just want you all to know how deeply sorry I am to each and every one of you."
Fiery fans
Lower league English soccer club Oldham Athletic have issued a warning to their fans to stop setting fire to rival supporters' hair after a number of incidents this season. An Oldham statement urged those planning trouble to watch their behaviour, with Greater Manchester Police now involved in identifying culprits.
Fans have been committing a range of offences, including throwing coins and bottles at players, but supporters taking a lighter to rivals is particularly worrying, Metro reports. "We have recently had supporters ejected for such offences as bottle throwing and attempting to light people's hair with cigarette lighters," said the statement. "This is totally unacceptable behaviour and cannot be tolerated."
Sport comes first
Italian Serie A side Atalanta fined player Guglielmo Stendardo for missing a match this week.
His excuse... he was sitting an exam for a law degree.
"I've given him study leave before, this is too much," said Atalanta manager Stefano Colantuono.
"There are rules here. He made his choice."
Stendardo's response: "I'm an example to children."