South Africa are formidable opponents so tourists will have to play out of their skins.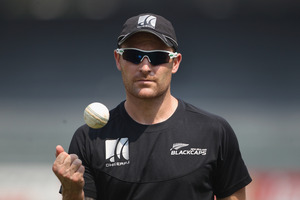 South Africa are, statistically at least, New Zealand's most awkward test opponents.
In 38 previous clashes, New Zealand have won just four - Cape Town and Port Elizabeth in 1962, Johannesburg in 1994 and Eden Park 10 years later.
Terrific performances all, the better team winning decisively. Should New Zealand add to that meagre tally, given the backdrop bet on it being saluted as one of the country's stellar cricket occasions. Players will need to perform out of their collective skins. South Africa are, after all, world No 1; New Zealand are eighth.
The ODI numbers on South African soil are comparable; two wins against 14 losses. Tomorrow's opening T20 will be the fourth clash in South Africa, for one win and two losses.
So the challenge is substantial, the more so for being without the country's best batsman, Ross Taylor.
Brendon McCullum will become the country's 29th test captain at Cape Town on January 2. John R. Reid, Ken Rutherford and Stephen Fleming are the only skippers to have beaten South Africa in a test.
So what should be expected?
The T20s
It's an oft-trotted out line that teams are brought closer together the shorter the format. It's no less true for that, so mark down the next three games as those offering New Zealand perhaps the best chance to trim South African sails.
It's the version most suited to the theory that one player can irreversibly swing a game. New Zealand have players with that capability, the new skipper being a prime example. Martin Guptill is another while rookie Colin Munro isn't in South Africa for his health.
Problem is, even when resting some of their better operators, South Africa aren't short of the same.
Remember Richard Levi, the muscular opener who showed how small Seddon Park was one night last February, smearing New Zealand to the tune of 117 not out off 51 balls? He's back, while quick men Dale Steyn and Morne Morkel are there, along with a group of relatively new men.
They're captained by Faf du Plessis and, after his heroics in Australia a few weeks ago, it's laughable to think once upon a time the New Zealanders thought him susceptible to a verbal gobful.
New Zealand's seam bowling is green - the experience comes from Doug Bracewell and Trent Boult. Seriously. However Nathan McCullum and Ronnie Hira are no mugs at the spin game.
Heading for the departure gate after the T20s:
Derek de Boorder, Corey Anderson, Ronnie Hira, Jimmy Neesham, Mitchell McClenaghan, Michael Bates, Colin Munro, Nathan McCullum.
Arriving for the tests:
Kane Williamson, Dean Brownlie, BJ Watling, Daniel Flynn, Jeetan Patel, Bruce Martin, Tim Southee, Chris Martin.
The tests
Trouble. Australia were rolled for 47 in 18 overs at Cape Town a year ago, although that's written off as a one-off. Even so, batting first there and at Port Elizabeth will leave New Zealand vulnerable should things go wrong at the top against class trio Steyn, Morkel and Vernon Philander.
New Zealand had good periods when South Africa visited last season, just not enough, and not sustained long enough.
Can Peter Fulton have a fruitful second test life? Will Dean Brownlie's back foot expertise be key? It comes back to McCullum, Guptill and Kane Williamson to show the way with the bat. Bracewell, Boult and Southee have the makings of a good quality seam trio. They'll need to show it.
The ODIs
The squad won't be named until closer to the time. T20, in particular, and test events may factor into the selection. But if New Zealand want to be a player at the World Cup they're jointly hosting with Australia in three years, they need to be preparing now.
The talent pool of fit contenders isn't deep enough to look beyond those in the first two groups of players, other than veterans Kyle Mills and Jacob Oram, who missed the T20s due to an impending birth. Why Mills isn't in South Africa now, remembering his form in the Champions League two months ago and New Zealand's lack of wise old heads, is plain peculiar.