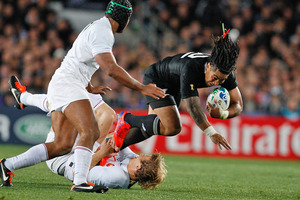 2012 brought about several highlights - and a fair few lowlights - on the sporting landscape. APNZ finds Five Reasons to look forward to 2013.
1. Three June tests against France
As inbound test series go, the opposition doesn't come much better than France, the All Blacks' bete noire. Appropriately, given the rivalry between the two nations - particularly in a certain four-yearly tournament - the first test on June 8 will be at Eden Park, the scene of last year's excruciating World Cup final. The other two tests will be held in Christchurch and New Plymouth. For themes, look no further than redemption (France) and inconsistency (France again). Capable of the sublime and the ridiculous almost simultaneously, the French never fail to entertain. All joking aside, there was some spitefulness in last year's big showdown won 8-7 by the All Blacks (allegations of eye-gouging by a Frenchman on Richie McCaw) which all adds up to a compelling package.
2. America's Cup
Intrigue, back-biting, general cattiness in a bid to win the oldest trophy in sport? Check. Full-on racing in huge multi-hulls on the edge of control? Check again. The America's Cup finals series in San Francisco holds huge appeal - as much for the sailing as the politics. Emirates Team New Zealand, currently testing in Auckland alongside Italian entrant Luna Rossa, will hope to continue New Zealand's proud recent history in the event. Selection trials begin in February. The Louis Vuitton Series for the right to challenge holders Oracle begins in July and the finals series proper in September. Dean Barker will carry the hopes of New Zealand once again.
3. England cricket tours
The New Zealand cricket side might provide more drama than an episode of Home and Away and offer as much success as Brendon Horan's chances of getting back in the good books of New Zealand First but they have plenty to look forward to in 2013. A lot revolves around England. New Zealand host the world's second-best test side for three tests, three one-dayers and three Twenty20 internationals in February and March and will return to the home of cricket in May for two tests, three one-dayers and two T20 internationals. There are few better tours in world cricket - Lord's, the Long Room, Barmy Army - and few better places to succeed. We can only hope.
4. Rugby League World Cup
Australia might win the majority of tests between the transtasman rivals (they've won eight of the last 10 with one draw) but the Kiwis won the most important one in the last four years and will defend their title at the World Cup in England and Wales in October and November. Australia will start the tournament as favourites and England will also be dangerous on home soil but the Kiwis will be contenders. As terribly as they do in one-off matches - the Australians are always in much better shape because of combinations built during State of Origin - they perform better in tournaments. They won the 2005 Tri Nations, 2008 World Cup and 2010 Four Nations and coach Stephen Kearney will be able to assemble a side capable of winning with the likes of Benji Marshall, Kieran Foran, Sam Kasiano and, if the stars align and he's in the mood, Sonny Bill Williams.
5. The Hesson and Taylor embrace
Ross Taylor will return to the New Zealand cricket side next year - hopefully sooner rather than later - and it will mean working under coach Mike Hesson, who brought about his removal as skipper. Their first meeting could be like a first date (think nervous teenagers), a boxing weigh-in (staunch bravado) or they could just get on with it. Whichever way, it will be fascinating to see how the messy situation unfolds. Jesse Ryder will also return - hopefully.
But wait, there's more...
There are plenty of other things to look forward to in 2013, like (hopefully) the cleanest Tour de France in years, the All Whites' high-stakes playoff for a spot at the 2014 World Cup and another instalment of Super Rugby in which the Chiefs will look to defend their title.
Five Reasons series
Why it's hard to be a Phoenix fan
Why the Breakers can win a third title
Five talking points of the European tour
- APNZ