Police called in as Adelaide soccer club says sorry to Phoenix star Paul Ifill for fans' taunts.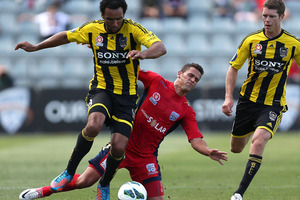 Players and officials from Wellington Phoenix and Adelaide United have rallied around Paul Ifill after the Phoenix striker was racially abused by Adelaide spectators during a match on Sunday.
Police have been called in after Ifill said he had been the victim of a "blatantly racist" slur during his side's loss.
Ifill, an English-born Barbados international, said on Twitter he had been abused by fans after he was substituted in the game against Adelaide United.
Yesterday, the Phoenix said they had formally approached Football Federation Australia to ensure the matter was fully investigated.
A spectator at Hindmarsh Stadium was heard to call Ifill a derogatory racial term after he was substituted in the 61st minute of the 3-1 loss, the Australian Associated Press reported.
Wellington Phoenix general manager David Dome said the club was treating the allegations very seriously.
"Our guys reported it to the match commissioner, who took it up with Adelaide United, and Adelaide's taken it up with the police over there," he said.
Racism, by supporters and players, has been a blight on European football in recent months but the A-League has remained unaffected, which Mr Dome said only added to the club's consternation.
"It's very unusual and that's why everyone's particularly disappointed with it," the Phoenix executive said.
In a statement, Adelaide United said the club was assisting the FFA in its investigation and had conveyed their concerns to Ifill.
The Phoenix said they had accepted an "unequivocal apology" from Adelaide.
Ifill, the Phoenix's all-time leading scorer, could not be reached for comment yesterday but he was less cagey on Twitter, saying he had received racist abuse from a "very small minority" of fans.
Responding to a question from former Phoenix and current Sydney FC chief executive Tony Pignata, Ifill tweeted: "not happy been a long time since IV had to deal with anything like that". He later wrote it was "a few things that were blatantly racist that I'd rather not repeat".
Phoenix teammate Alex Smith said: "Unbelievable the things I heard from the bench ... I'll leave it for now but I will say it was very racist and disgraceful."
Recent abuse cases
* April, 2012 A 55-year-old London man banned from Stamford Bridge for life after racially abusing Didier Drogba.
* October, 2012 A 13-year-old boy banned by Milwall for the "foreseeable future" after racially abusing Bolton forward Marvin Sordell.
* Ocobert, 2012 Serbian FA fined $125,000, after under-21 match against England was marred by monkey chants from the crowd.
- APNZ