NZ Derby aspirant entry bowls rivals over in stylish victory at Ellerslie.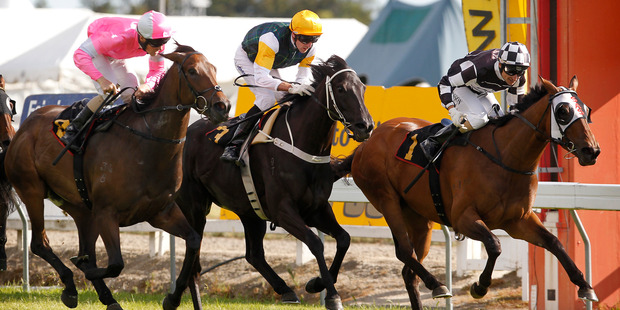 Some of the owners are a little tired of hearing that a topline cricketer shares in the ownership of Deane Martin, winner of the Mad Butcher Prelude at Ellerslie yesterday.
Celerabrating were Graham Ashby, Allan Burrett, Peter Hay, Rod Limbrick, John Martin and Chris Morgan along wth trainer Allan Peard and former test cricketer Simon Doull.
Deane Martin won the important lead-up race stylishly, driving at the leaders in the home straight and forging clear like a horse that could be heading for staying events later in the season.
"Yes, we'd like to aim him for the Derby in March,"said Allan Peard.
Peard said Deane Martin will have a break over the holiday period.
"He's the sort of horse that will appreciate a break.
"He's a Derby type and that's what we'll be aiming at.
"He doesn't need to be racing in the next few weeks."
Meanwhile, the Shez Sinsational victory at Te Rapa on Saturday had at least as much to do with Allan Sharrock's perseverance as the mare's ability.
Sharrock and his owners have had a harrowing time attempting to track down the actual ownership of the classy mare they race on lease.
Now, hopefully, they have it sorted. It will mean a powerful campaign through to the end of the current season.
Saturday's Cal Isuzu Stakes win will not be the last victory for the team.
It should take only bad luck to defeat her in the $200,000 Zabeel Classic at Ellerslie over the Carnival. If Opie Bosson has one element that complements his huge natural ability, it's his talent for not pressing the panic button in a tough situation.
There is an old line that topline jockeys always have the ability to look like they've got plenty of time.
Opie Bosson is never panicked.
It has won him so many races and Saturday's Cal Isuzu was one of them.
The Zabeel Classic is looking like almost a soft kill. "We left 5 per cent in her, so she should be right on top at Ellerslie," said Sharrock.