Connections of Annie Higgins enjoy memorable success in Te Rapa feature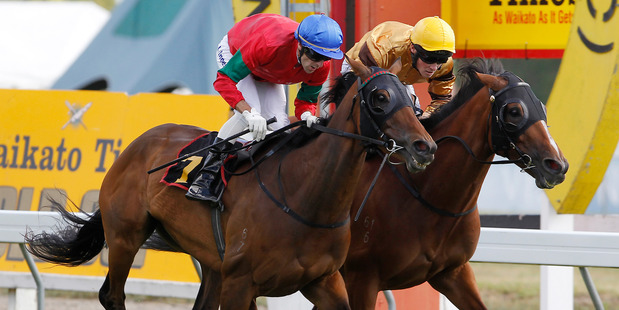 Marie Leicester remembers the fierce Waikato frosts of the 1950s when she was growing up.
It made Annie Higgins' win in Saturday's Waikato Times Gold Cup that much sweeter.
When Annie Higgins swept over the finish line, just in front of Better Together at Te Rapa, Marie Leicester had thoughts of her mother.
"This mare is named after my mother's maiden name," said racing's most humble participant.
Trainer Lance Noble said: "I am just so rapt for Marie.
"She has had a terrible time lately with losing horses and foals, but she never complains.
"She is a delight to train for."
The signs were there when Annie Higgins had to do it tough when she just missed a place in the Counties Cup last start.
She drew wide, worked hard to get the lead early in the back straight, and was run down only in the last 75m.
On Saturday Leith Innes had her ideally placed on the outside and moved up to challenge on the home bend.
Annie Higgins was bolting at that point and her winning price was $2, but it extended significantly as Better Together fought back strongly on her inside.
"She fought like a tiger ... it might have been interesting if it had been another 50m," said Better Together's rider Matt Cameron. But that would have spoiled the party.
Marie Leicester had her own admiration for Lance Noble at the Te Rapa birdcage presentation.
"Lance has been wonderful with this mare. He's been so patient and she's needed that."
Certainly, the extremely talented horsemanship of Lance Noble, yet another product of the Jim Gibbs factory, has been evident.
The mare looked light on Saturday and Lance Noble's horsemanship was a massive part of the victory.
"She'll be a better mare next preparation," said Leith Innes on dismounting.