Fledgling fighter tipped for more success after showing rare skill in speedy destruction of 43-bout veteran.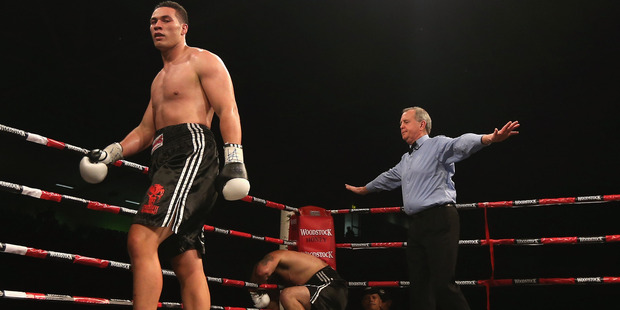 Joseph Parker's impressive demolition of Richard Tutaki on Saturday night suggested there might be some substance behind the growing hype.
Using his blazing handspeed to batter a game but limited Tutaki into submission early in the third round of the Fight for Life in Auckland, Parker turned in the best performance of a fledgling three-fight pro career. It's still early days - he only recently turned 20 and is yet to be tested - but the South Aucklander clearly possesses skills seldom seen from a Kiwi prospect.
Parker's emergence adds another layer of interest to the burgeoning domestic heavyweight division.
With Shane Cameron likely to return to his natural weight class, David Tua a possibility to a return if the money is right, and the celebrity wildcard of Sonny Bill Williams in the mix, there are plenty of high-interest fights in the offing.
Of those four fighters, Parker is arguably the most talented. His next assignment will be another step up in class. Joey Wilson, the well-performed local whose last fight was a draw against Soloman Haumono, is on the radar. Parker's promoters Duco certainly liked what they saw on Saturday night from a fighter they recently signed to a six-year deal.
"We couldn't really have asked for more," Duco's David Higgins said. "The most important thing is that he won the fight. But the way he won it - he had massive intent. In the dressing room before the fight there was a lot of focus, which is what you want because the stakes are high."
Tutaki was unsurprisingly tailor-made for Parker. The 43-fight veteran possessed little power, but was cagey and durable enough to ensure Parker received a decent workout.
"It was very one-sided but we saw more of Joseph [on Saturday night] than in his previous pro fights," Higgins said. "It was very encouraging. We liked what we saw."
That enthusiasm will be tempered by the knowledge that Parker's development is still in its infancy. The challenge now will be finding opponents who extend Parker without exposing him to a level for which he is not ready. His days of beating up mid-range journeyman like Tutaki are numbered.
"He is definitely on another level." Higgins said. "Now it is onwards and upwards. We'll step him up to a better opponent again. Hopefully he won't be out of the ring too long. I'd like him to fight again within a two-month window, maybe less."
Ringside results:
Carlos Spencer beat Jarrod McCracken (unanimous decision)
Manu Vatuvei beat Eric Murray (unanimous decision)
Greg Bird beat Rene Ranger (majority decision)
Daniella Smith beat Lauryn Eagle (unanimous decision)
Paul Gallen beat Hika Elliot (unanimous decision)
Willie Mason drew with Troy Flavell
Joseph Parker beat Richard Tutaki (third round KO)