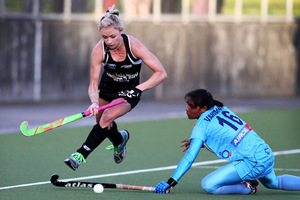 This week's test series with India represented the start of the New Zealand women's hockey side's 2016 Olympic campaign but it's been hard for some players to let go of the last one.
The Black Sticks' London campaign caught the imagination of a New Zealand public eager for a first hockey medal since the men's team claimed gold in Montreal in 1976.
Ultimately, however, it ended in disappointment as they lost a thrilling semifinal to the Netherlands and then went down to Great Britain in a playoff for bronze. That's been the hard part for the players, especially as they met choruses of congratulations when they returned home.
"It was pretty disappointing, really," Gemma Flynn said of their campaign. "Everyone comes back and gives us a pat on the back and says you did so well to create history for New Zealand women's hockey but, realistically, we didn't achieve our goal. We didn't get a medal. It was a great tournament and we enjoyed it bar that last couple of games, but it was hard and leaves a bitter taste in the mouth.
"I often use the phrase, good enough is not good enough. We don't have a medal. For the rest of our lives we are going to look back and reflect because we didn't achieve our goal. It's quite hard to fathom.
"Initially it was deflating but now it's motivating. We have age on our side and can go through to the next one. It's what keeps me going and why we are committed to the programme. We aren't going to throw in the towel. We want the jewellery, especially Commonwealth Games, World Cup and Olympics."
Their performance in London and present world ranking of No 3 would suggest they're not far off, especially as they were a lowly 11th when Mark Hager took over as coach in 2009 after the disappointment of the Beijing Olympics.
Hager admitted one of the hardest things was not jut getting his players back to high standards but actually getting them back on the training pitch. Flynn and Anita Punt were two, but the injection of a handful of youngsters into the squad as more experienced players take a break has proved critical.
"It felt like we had a day off but it was about a month, six weeks," Punt said. "I was definitely one that, when Mark asked us to train, I was like, 'what? Are you sure? We just got back."'
Flynn added: "Initially we thought we might have the rest of the year off but we can understand why he would want us to train. We have to train even harder because we have to keep our ranking up there. People want to play us now."
The Black Sticks won the final game of the six-match series last night when they beat the 11th-ranked Indians 6-5 in Wellington, coming back from 3-2 down at halftime.
They claimed the series 5-0, with one game a draw.
But New Zealand will face a sterner test against Argentina (ranked No 2) in February and in a couple of four nations tournaments also involving Argentina, South Korea (8) and possibly the US (10) in April.
The majority of experienced players taking a break will have returned by then and Hager will hope they find a congested scene as younger players press their claims for continued involvement through to Rio. The 2016 Olympics might seem a long time from now, especially for some players.
"Everyone is like, it's only four years," Punt said. "But the last four years were very hard. A lot of us are willing to do it and it's exciting. It's what keeps us going."
That and the disappointment of London.
- APNZ