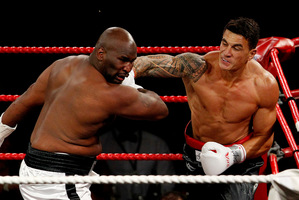 Forget the Rugby World Cup, the Chiefs Super 14 triumph, or even the NRL grand final win with the Bulldogs in 2004 - for Sonny Bill Williams, his boxing achievements have the potential to outweigh them all.
Spend some time with the former All Black and the subject often turns back to boxing. He is convinced it has made him a better sportsman - and a much more confident rugby player. According to Williams, it's also more memorable than any triumph on the field.
"I'm always trying to find new challenges and at the moment, it is boxing," says Williams, who is scheduled to fight South African Francois Botha for the WBA international heavyweight title in February. "Being able to win that [NZ heavyweight] title ... I loved the feeling. I've had some great moments in my life but I probably haven't felt like that before."
Williams says he always has self-doubt, and his "biggest fight" is with his own mind, but the solo aspect of boxing has given him a new belief.
"There is no one else to help you, so your mental strength has to be massive," says Williams. "Even though I haven't fought the best fighters in the world, I had no prior boxing experience, so just jumping in the ring forces you to face a lot of fears. When I knew a lot of people were going to be watching, it took a lot of courage.
"Even when you spar, the guy usually invites all his rugby and league friends down," says Williams. "You hop in the ring and they are warming up like Mike Tyson - all his boys are here and have come to watch him knock me out.
"After coming through all of that when you are on the field, it is that much easier mentally - you don't run away from things. You might start a game with a dropped ball, or missing a tackle, and you think now I will just work my way into the game, but now I have the mental strength from boxing, I will just get back into it straight away."
Meanwhile, he has grown accustomed, if not weary, to criticism and judgement following his every step.
"People always doubt you and question your motives," says Williams. "But I have always wanted to be the best you can be and you are a long time retired.
"Look at when I decided to come back to New Zealand [to play rugby] - that was a massive move and not many people would have done that. They would have stayed in France on massive coin rather than go back to New Zealand to be at near the bottom and not even being paid what most of the All Blacks were being paid. You put yourself out there - and for a long time, I was unsure if I would make it - but a lot of people don't understand that and just belittle what you have done."