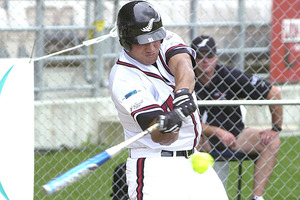 When the Black Sox world championship softball team assemble in Auckland this weekend for the first time, coach Eddie Kohlhase doesn't expect he'll need to do too much talking.
Having named the 17 players expected to win back the world title on home turf next March, Kohlhase will look to his veterans to take a lead in setting a tone for the upcoming campaign.
And experience is something this group has plenty of. The roster includes two players (Thomas Makea and Jarrad Martin) who have been to four previous tournaments, while two others (Brad Rona and Donny Hale) have contested three.
All have been part of Black Sox world championship dynasty through much of the last 15 years but were also toppled by arch-rivals Australia in the 2009 final.
"Attending five championships is obviously a great achievement and means they're fantastic athletes," Kohlhase said. "It's a real testament to their durability and the way they conduct themselves.
"These are the guys who will set the culture for our team. It'll be the first time some of them will go to a world championships not as defending champions, so it'll be interesting to see what their attitude will be.
"They'll have roles within the team. They won't be on the diamond every single game, but they certainly add real experience to the bench and know that international environment."
This gathering won't involve too much on-diamond training. It's more about laying a platform and ensuring everyone, including partners, understand the team culture.
"The selection process has been very difficult and there are obviously some very good players who didn't make the final selection," Kohlhase said. "But we're very happy with the 17 we've selected.
"We believe we've picked a team to win it. We've got a lot of speed and power, and a lot of youth and experience. If we can mould that all together with the team operating as one, we'll be very hard to beat."
New Zealand squad: Heinie Shannon, Patrick Shannon, Donny Hale, Ben Enoka, Jerome Haretuku (all Auckland), Penese Iosefo, Tyron Bartorillo, Daniel Milne (all Canterbury), captain Rhys Casley, Nick Hayes, Tyson Byrne (all Hutt Valley), Aaron Stroman-Neemia, Wayne Laulu, Thomas Makea, Jarrad Martin (all Wellington), Brad Rona (North Harbour), Jeremy Manley (USA-based).
- APNZ