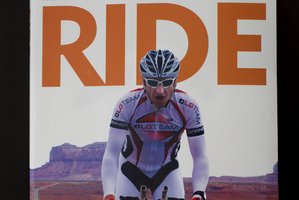 Ride follows the incredible journey of Josh Kench, an ordinary Kiwi bloke from Wellington who, at his brother's wedding, cigarette in one hand and beer in the other, announces his desire to attempt one of New Zealand's most gruelling multisport events, the Coast to Coast.
This memoir tracks his journey from rookie athlete to one of the most successful endurance athletes New Zealand has seen. Josh talks us through his experiences of the Coast to Coast, the 1200km Paris-Brest-Paris brevet, the 1280km Enduro leg of the Lake Taupo Cycle Challenge and the Race Across America, a 5000km non-stop cycle race from the west to east coast of America.
Josh is one of the small minority of people who have the exceptional physical and mental fortitude for endurance racing. The man is a machine in every sense of the word, with massive training rides including a quick jaunt from Wellington to Tauranga in time for a family member's birthday.
The Race Across America proves to be a true test of his ability though.
In 2011, with virtually no sponsorship and only a small team of his closest friends as a support crew, Josh became the first New Zealander to cross the finish line of this harrowing cycling event. Unlike the Tour de France, where riders have plenty of time to rest and recover between stages, the Race Across America cyclists must survive on virtually no sleep while cycling for up to 12 days through the barren and uncompromising American landscape.
Josh's story is full of good, bad and ugly stories of what happens when the human body is pushed to its limit physically and mentally ... and then pushed even further. Endless American roads, searing hot deserts, extreme weather conditions, not to mention the debilitating effects of severe sleep deprivation on the human psyche, this story makes for a captivating read and is an inspiration, not just to cyclists, but to all of us.
• Thanks to all those who entered the competition to win a copy of the beautifully presented Generals of the Rugby World Cup by Paul Verdon. The answer to the question of who started and finished the 2011 World Cup final for the All Blacks was: Aaron Cruden started and Stephen Donald finished. The winner was Steve McCann of Auckland.