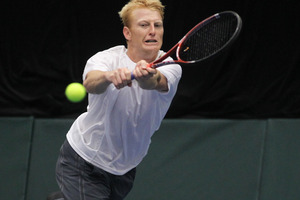 New Zealand tennis number two Dan King-Turner wants to see a Kiwi guaranteed a spot at next year's Heineken Open.
It's looking more and more likely the two remaining wildcards will be given to overseas players.
King-Turner says it will harm the sport not having a New Zealander taking one of those wildcards.
"I don't think any Kiwi's saying that even if Roger Federer is wanting to come, or Rafael Nadal's wanting to come, that we should get a wildcard over them," he said.
"The differences between a Kiwi playing it, or two or three Kiwis playing it, as opposed to someone ranked 89 to 100 in the world, it would be nice to be considered.''
Tournament organisers are expected to hand out one wildcard this weekend, after offering one to this year's finalist Olivier Rochus, with the other just before the tournament starts.
Heineken Open director Karl Budge said he is in talks with former world No 3 David Nalbandian, former No 7 Gael Monfils and promising American Ryan Harrison.
Budge stated he will hold off until the eve of the Heineken Open to see who is looking for match practice immediately before the Australian Open in the hope of landing a big name.
It's not as if New Zealanders have presented compelling cases for inclusion over recent years and even longer since players like three-time winner Onny Parun were contenders.
Rubin Statham, at 358, is the highest-ranked Kiwi followed by King-Turner (375), Michael Venus (514) and Artem Sitak (557).
Statham was the last New Zealander to reach the second round when he beat King-Turner in 2010 and Mark Nielsen was the last to beat a foreign player when he dispatched Andreas Vinciguerra in 2002.
King-Turner said he understood where Budge was coming from but felt one wildcard should go to a home player.
"It would be disappointing if a New Zealander wasn't given a wildcard,'' he said. "It's our home tournament and it's great to get the opportunity to play against top players. If you can do well, it's a great kickstart to the year.
"A few years ago I went really close to beating Juan Ignacio Chela who was ranked 15 in the world. After that match against someone of that quality, it gave me confidence going into the rest of the year and I had my best year.''
- Newstalk ZB/APNZ