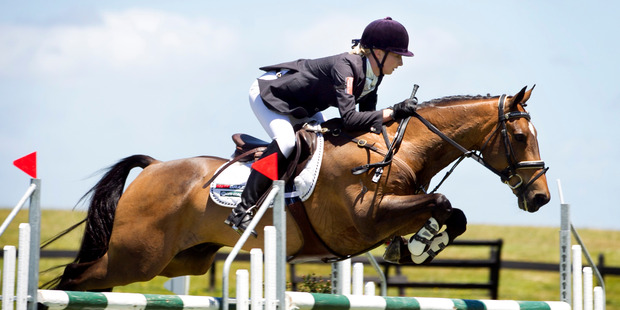 Ashleigh Mckinstry isn't your typical 20-year-old, but she has managed to win one of New Zealand's premier eventing titles, the Puhinui three-day event with her part Kaimanawa home-bred horse, Pioneer Makokomiko.
The pig-hunting, horse-shoeing country girl put in a performance none of the older competitors could match at Manukau yesterday.
Mckinstry had enough of a lead to still win despite dropping a rail in the showjumping. She confessed to a few nerves before the last test in the competition.
"I was a bit nervous beforehand but I told myself to calm down and focus. Mum told me to keep breathing."
Donna Smith didn't show any ill-effects from her nasty spill off Balmoral Sensation during the cross-country and put in a faultless round on Just Chocolate, finishing the competition on her dressage score. Simon Gordon on Fletch.com was third.
Pioneer Makokomiko was bred by the Mckinstry family on their Owhango farm, 45 minutes from Taumarunui. Ashleigh has done all the work on producing the horse herself, and describes him as a real character with an attitude who was quite a handful in his earlier days. "He was a monster to start with, he bucked both me and mum off."
The slightly built rider also has the unusual hobby of pig hunting.
"It's something dad introduced my sister and I too. I've lost count of how many pigs we've got."
Ashleigh also works as a farrier, not just shoeing her own horses, but doing other people's horses two days a week. She works on the family farm looking after all the stud duties for the resident stallion as well as doing crutching and other duties that come with a sheep farm. The Mckinstry's also have bees as well as the horses and sheep.
The next challenge for Ashleigh is planning her 21st in January, even though her birthday is in March. "I'm just too busy then with competitions."
Earlier on the day, the international experience showed as Clarke McKenzie won the Veterinary Associates CCI* on Vincent from Sarah Young on High N Dry.
In the Honda NZ CCI**, Helensville's Shelley Ross on Coleraine Coaltown were clear winners, finishing without incurring any jumping faults over the competition. Canterbury veterinarian Sam Taylor was runner up with Donna Smith finishing third and fourth.