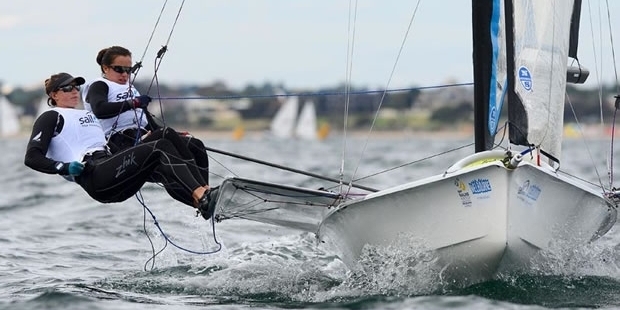 The young New Zealand crew of Alexandra Maloney and Molly Meech has taken out the 49erFX skiff at the ISAF Sailing World Cup series opener (Sail Melbourne) which ended yesterday.
Making its entrance into the ISAF Sailing World Cup Series in Melbourne this week, the 49er FX is the women's skiff class that will debut as an Olympic event in Rio 2016.
Up against some quality Australian crews, including Olivia Price, the Olympic silver medallist in the women's keelboat at the London Games this year, the Kiwi victory bodes well.
Both Maloney and Meech have represented New Zealand at the ISAF youth world championships, Maloney winning a silver medal in 2010 sailing the 29er.
The pair has been eyeing the skiff class event since its inclusion in the Olympic Games was announced.
They travelled to Santander, Spain, in March to take part in trials to determine which boat would be given the nod for the Olympic event.
Their victory in Melbourne this week has been convincing. They concluded the 12-race series with an eight-point margin over nearest rivals Tessa Parkinson and Kate Lathouras of Australia.
Maloney and Meech finished outside the top three in onlyone race and rounded out the regatta in style with a medal race victory yesterday.
Meanwhile, a solid contingent of other New Zealand sailors also crossed the Tasman for 2012 Sail Melbourne.
The best result, other than Maloney and Meech, included a second by Torrin Bright in the men's kite, a fourth by Gemma Jones and Luke Stevenson in the Viper, fifth by Thomas Coutts in the Finn, sixths by Thomas Saunders in the Laser class and Cullen Le Roy in the men's Laser Radial, plus sevenths by James Turner and Carl Evans in the 470s; Susannah Pyatt in the women's Laser Radial; and Miranda Powrie and Mark Stichbury-Cooper in the Viper.