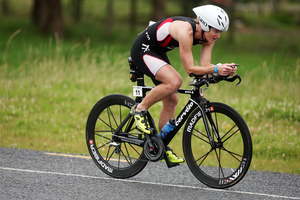 Jo Lawn competed in Taupo for the final time at yesterday's half ironman and, appropriately, bowed out on a winning note.
An emotional Lawn led the entire race before crossing the finish line in 4h 36m 39s, nine minutes clear of second-placed Melanie Burke.
It was Lawn's first Taupo half ironman but, considering the race was set in the scene of her seven Ironman New Zealand titles, she was determined to say farewell in style.
"I wanted to come down to Taupo one last time to thank everyone for the past 13 years," she said. "I wanted to finish my time here in Taupo with this race.
"The swim was quite rough, but being choppy suits me. The run was a nice surprise, doing only a half compared to the full ironman, and the crowds were great, so many cheering for me."
In the men's race, Graham O'Grady was also spurred on by the crowd, as the Taupo local led from start to finish to win in 3h 58m 04s on the Taupo domain.
The 30-year-old, just under two minutes outside of Callum Millward's race record, managed a comfortable nine-minute winning advantage over James Bowstead of Auckland.
Ten-time Ironman New Zealand champion Cameron Brown faded to finish fifth and was unable to put a finger on his poor showing.
"I felt sort of all right on the swim, but after that just went backwards," he said. "I don't know what's going with me at the moment, it could be something still in me from Hawaii, I was sick for three weeks there.
"I'm just weak and got nothing left, something's not going right, otherwise I'm very unfit."
- APNZ