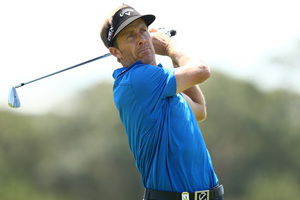 Fighting mental demons, Stuart Appleby has revealed he virtually had to start all over again to revive his flagging golf career.
Appleby briefly led the Australian Open yesterday before settling for a share of sixth spot, four shots behind leader John Senden (Australia). The closest Kiwi was Josh Geary, a stroke further back with compatriot Gareth Paddison another shot behind.
Appleby hit a third-round two-under-par 70 at the windswept Lakes layout in Sydney and said: "I feel like I'm coming back, my game is definitely on the uptake.
"Mentally I've really struggled the past year or more, nearly two years, to, I guess, believe in myself, believe in all the great things that I've done. And if you struggle with your self-belief, you're pretty much going to struggle with your scorecard. So I've been working very hard on that."
A nine-time winner in the US, Appleby had to use a one-off career exemption to retain full playing rights on the US Tour in 2013 after failing to finish among the top 125 money earners this year.
Although his slide from the world's top 20 coincided with a debilitating back injury that Appleby felt affected his 2011 season, the 41-year-old candidly admits his decline was largely his own undertaking.
"We create our own videos in our minds and some of them are pretty ordinary movies. But we tend to keep watching them," he said. "You paint an ordinary picture at times and if you paint it enough and start seeing it, you start to be it."
All Appleby knows is how much he loves the game and, consequently, the 2001 Australian Open champion resolved earlier this year to start all over.
"It's the old story, you never forget how to ride a bike," he said."Well, I'm on the seat and I've got my foot in the pedals; I'm just trying to remember which gears to get into."
"At the darkest, the worst times, you're shaking your head saying 'I don't know if I want to do this any more'," he said. "That popped into my head more than once or twice, but luckily that didn't last for long."
Meanwhile, a back-nine blitz vaulted Senden back into the outright lead. The first-round leader was plodding along just off the pace before igniting his round with a brilliant eagle on the par-5 11th. Senden followed up with successive birdies on the 13th and 14th en route to a two-under-par 70 to be seven-under for the championship and two shots clear.
The 2006 champion has a swag of players hot on his tail, though, heading into today's final round. English world No4 Justin Rose is Senden's closest pursuer but was no doubt a tad disappointed after closing with back-to-back bogeys for a 70.
On a high after his success at qualifying school in the US last week, Matt Jones (70) shares third place at four-under with rookie Kieren Pratt (70) and veteran Peter Senior (69). Appleby, countryman Cameron Percy (72) and American Kyle Stanley (70) share sixth at three-under.
Geary hit a 71 to be in a share of ninth, while Paddison hit a 74. Most of the field went backwards, including halfway leader Marcus Fraser, whose 76 left him in the nine-way tie for ninth at two-under. Pre-tournament favourite Adam Scott is with Geary and Fraser, five shots adrift.
American great Tom Watson crashed out of contention after leaking shots everywhere in an ugly six-over 78.
- AAP