After Olympic success, administrators see the overspend as no more than an overdraft.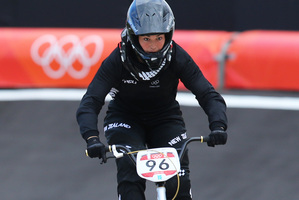 BIKE NZ has overspent an estimated $251,000 from their high performance budget in the quest to get medals at the London Olympic Games.
The Herald on Sunday understands the sport's body has sought dispensation from High Performance Sport New Zealand for the extra spending.
BikeNZ netted three medals at London: silver to BMX rider Sarah Walker and bronzes to keirin rider Simon van Velthooven and the men's 4000m pursuit team.
BikeNZ have already had $200,000 added to their 2012 HPSNZ investment of $4.085 million. They were originally allocated $15.1 million across the Games cycle (about 25 per cent of the entire high performance budget). Three medals out of New Zealand's 13 medals at London is almost parity as a return, although none were gold.
BikeNZ chief executive Kieran Turner is preferring to treat the extra spending as an overdraft-type facility, saying $80,000 of the fee could be accrued to 2013, but the scenario has the potential to set a murky precedent in what excuses sports might use in future for poor fiscal management.
"You've got to recognise it [the HPSNZ funding] is not the only money we get and we chose to invest a lot in our junior development for Rio. I am quite comfortable with that. Few sports have done as much with their investment," Turner says.
"2013 is set to be a quiet year for us funding-wise anyway. We will gradually make the transition to Cambridge [to be near the new velodrome] and we are well advanced on our equipment spend. We are expecting to save $600,000 on that front alone."
While the blow-out is less than two per cent of BikeNZ's overall budget, it comes at an awkward time.
In recent weeks, the sport has been presenting a case to HPSNZ to be recognised as a targeted Olympic sport until Rio 2016. They have earned that status over the last two Games but the microscope is expected to be turned on their finances in future.
HPSNZ chief executive Alex Baumann says the overspend is unlikely to affect their thinking on BikeNZ as a targeted sport.
"We're working through that process but ultimately, bike is important to us. If we want to get anywhere near our target of 14 medals for Rio 2016, we need it."
The financial problems have been complicated by a perceived lack of communication at BikeNZ headquarters.
Veteran high performance manager Mark Elliott, recognised as one of the best at his job in New Zealand sport, is believed to have told HPSNZ the sport could expect six medals at Rio; in a separate interview, Turner apparently gave HPSNZ a figure of five.
Elliott is also understood to have worked under a separate budget to the BikeNZ board regarding high performance spending.
He did not have to present to Turner as CEO first. Most of the extra expenditure is believed to have gone towards hiring support staff ahead of and during the Games.
Further exacerbating the problem is the move by Rabobank to pull out as a BikeNZ major sponsor.
"It's a tough market and we haven't signed anyone new to replace them," Turner says. "We have interest as a result of our Olympic success but, a bit like rowing, we don't see a lot of our athletes on New Zealand screens. Fortunately, Sky TV have purchased the rights to more international coverage next year."
Turner says John Struthers, the head of Sheppard Industries and founder of Avanti Bikes, was also approached to see if he could help further financially but BikeNZ has had limited success. Struthers has already invested heavily in the sport's governing body.