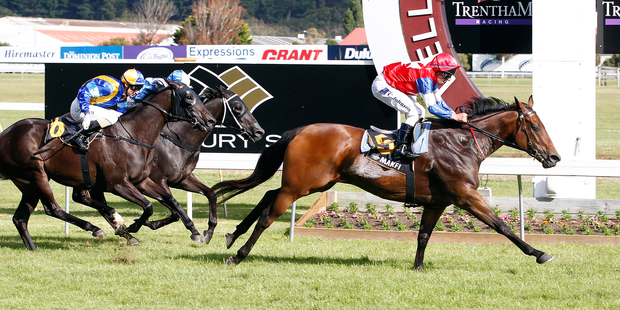 Final Touch (right) wins the group one Captain Cook Stakes at Trentham. Photo / SNPA
www.theinformant.co.nz
FINAL TOUCH has become a victim of her own success and an invitation to continue her career in Australia is under serious consideration.
The pride of the south produced a sterling performance at Trentham yesterday to claim the group one Westbury Stud Captain Cook Stakes and breeder, owner and co-trainer Karen Parsons is now looking further afield.
"Chris Waller has approached us and is very keen to get her over there," she said. "She was rated 107 before today and she's battling in handicaps and restricted to weight-for-age so there is a good chance she could go," said Parsons, who prepares the five-year-old with husband John at Balcairn, North Canterbury.
"I was dead-set confident today and all she needed was a bit of luck in the running.
"We've been here before and this is the first time ever that we've had her spot on.
"There's been no glitches at all and everything has gone well. We're just so pleased that she's showed what she can do in the North Island."
Final Touch, already a four-time stakes winner, settled back in the field before improving near the turn. She let down strongly in the straight to breeze by Mufhasa who fought gamely to dead-heat with Lady Kipling for second money, while Lady Chaparral took fourth.
The favourite Veyron covered extra ground in the running and improved three wide to be in the party on straightening but was unable to produce his customary finishing run and wilted to fifth.
Jason Waddells' faith in emerging star Mosse was repaid on more than one count in the group three Aussie Butcher Concorde Handicap at Ellerslie yesterday.
Well before the feature sprint Waddell had committed to making his lightest weight for years in order to continue his association with the unbeaten O'Reilly gelding.
Waddell, who is enjoying a big season in second place on the jockeys' premiership, has been Mosse's rider in the last three of his four wins as he has come through the grades.
Dropping from the 56kg of his Ellerslie win against Rating 85 company on November 6, Mosse had just 53.5kg yesterday, countered by a wide draw from the 1200m barrier.
That meant another leap of faith from Waddell, who opted not to push Mosse forward and wide when the field jumped, deciding instead to ease him across the back of the field and bide his time.
The big bay took his jockey literally, dropping the bit completely and lobbing along some 12 lengths distant of a hot pace set by Mae Jinx.
That was his position still when the field swung for home and once again Waddell banked on his mount in deciding to angle for runs through the field rather than taking him wide.
As only the very best horses can do when rivals ahead are still running, Mosse picked off his opposition one by one and with a final decisive blow, burst between Durham Town and Rough Odds inside the last 50m and got up for a long-neck win over Demophon and the dead-heaters Durham Town and Trapiche.
Vincent Mangano wilted late to fifth ahead of Rough Odds.
"For the first time, I'm lost for words," was Waddell's reaction to Mosse's stupendous performance, reminiscent of Kiwi's famous Melbourne Cup win.
"To do what he did over the last 100 metres was unreal. I thought he was giving them too big a start."