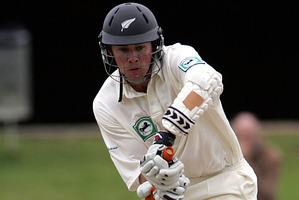 New Zealand's domestic cricket is strewn with batsmen in their 30s, who were tried and discarded at international level but are still productive players for their provinces.
Former test batsmen Mathew Sinclair and Lou Vincent are among those who forcefully argue for not ditching players from the international game based purely on age.
Neither was remotely pushing his own case, but at a time when players on the wrong side of 30 are making plenty of domestic runs, while the test team's specialists are in a trough, it's a valid point.
"They do discard us very quickly," Sinclair said of batsmen still performing solidly at first-class level.
"We don't have the depth of players, or numbers, to warrant that. It's just too easy for them to discard us and put us back on the domestic scrapheap."
And it raises an important second point: does a slump at international level not mean a batsman can "come again" a few seasons later?
Yesterday Peter Fulton did get a recall almost three years to the day since his last international involvement, possibly down to Ross Taylor's absence from the South African tour.
Consider this season. Sinclair, now 37, hit his 35th first-class century, 143 against Wellington; Michael Papps made a double century for Wellington against Canterbury; Aaron Redmond took Canterbury for 133 and 123 in the Otago's opening Plunket Shield match and fell two short of a third against Auckland this week; while Fulton peeled off 102, 108, 79 and 104 in four successive innings for Canterbury against Otago and Wellington.
They, along with Vincent, Jamie How, Tim McIntosh and the now-retired Craig Cumming and Peter Ingram, have been reliable runmakers over many years at provincial level.
All had chances at the test game, albeit with mixed success. All have long blown out 30 candles.
Sinclair's argument is that when players are making domestic runs they should be looked at hard for a recall, especially when the incumbents are not performing. Age is irrelevant if the form is eye-catching.
He singled out Redmond and Fulton - Fulton as he's making runs right now; Redmond for his treatment from the national selectors.
In the last of his last seven tests, in November 2008, Redmond hit 83 and 19 against Australia at Adelaide. He was then tossed aside.
There was a vague parallel with his father, Rodney's treatment in 1973.
He hit a century in his only test, against Pakistan at Eden Park, went to England for the subsequent tour, didn't make the test team and was gone.
"He had a raw deal," Sinclair said. "He got quite a good score and was left out from then onwards. That was quite harsh.
"I look at the likes of Fulton, who is getting good domestic runs, is obviously in fine form at the moment, because for me it's about scoring at domestic level, and heavily.
"If you're doing that you're obviously ready to go up to the next level. That's what the selectors want, guys scoring runs and so you've got to look at these players seriously.
"I just don't think we can get into a situation where we discard players as early as we do."
Vincent cited Australian veteran Mike Hussey to back his point. Hussey started his test career at 30 and is still going strong seven years later.
"I personally don't think you reach your prime with your batting until the late 20s, into the 30s.
"Some of the best batsmen in the world have scored major runs over 30," Vincent said.
And he doesn't buy the line he's often heard on his travels around the cricket world.
"The easiest thing to do is [say] 'we're planning for the future, looking at the next generation'. To me that's a cop-out. You pick your best team. New Zealand doesn't have the luxury of a hypothetical situation, of looking [ahead] two or three years time."
Now go to the other extreme: what about promoting on ability, rather than wait until players are of a certain age?
At the other extreme, India, Sri Lanka and, especially, Pakistan have been unafraid of pushing players into their international teams if deemed ready for the top level.
Sinclair cautioned against that. New Zealand have not been a cricket nation with an abundance of richly-gifted 19-year-olds, as, say, those nations have.
Therefore New Zealand's game has generally been built around the team collective rather than promoting, and pushing young individual talent.
"I'd be a little careful of throwing young players in the deep end until they're fully right with what it takes to be international players. You need that settling in period," Sinclair said.
And Sinclair wondered what the policies of selectors around picking players in the last few seasons has been.
"Are you picking on form, or a hunch that a player is going to do well?"
As Vincent bluntly put it: "You pick guys in form, who are consistently scoring runs.
"Simple as that, and get on with it."

Not fading away
Once test batsmen, now not wanted:
Mathew Sinclair (37) 33 tests, 1635 at 32.05, first-class 48.8, 39 100s
Lou Vincent (34) 23 tests, 1332 at 34.15, first-class 34.7, 10
Michael Papps (33) 8 tests, 246 at 16.4, first class 36.9, 22
* Craig Cumming (37) 11 tests, 441 at 25.94, first-class 38.25, 23
Peter Fulton (33) 10 tests, 314 at 20.93, first class 42.4, 12 (pictured)
Jamie How (31) 19 tests, 772 at 22.7, first-class 35.2, 14
Aaron Redmond (33) 7 tests, 299 runs at 23.0, first-class average 34.0
Tim McIntosh (32) 17 tests, 854 at 27.54, first class 33.7, 18
* Peter Ingram (34) 2 tests, 61 at 15.25, first class 39.87, 17
* Denotes recently retired players.