Franchising seen as the way to make the game relevant again.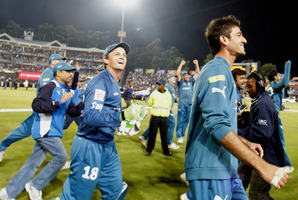 Special report: The Shame Game. Pulling New Zealand cricket out of a death spiral.
Whether to march down the franchising route looms as one of the biggest questions facing New Zealand Cricket.
The domestic game is on Struggle Street. Getting private sector funds involved would pump life into the six major associations. But would it work?
It's not simply a question of deciding to press full steam ahead. For example, should the model adopted involve separating the T20 arms of each association from its other two senior level forms, four-day first-class cricket and the 50-over version, or move the entire major association operation to part-private ownership?
Put simply, is it better for an association to fork out substantial money to hire West Indies slugger Chris Gayle for an HRV Cup campaign, or spread the investment across the range of disciplines? And would a potential investor fancy that, as opposed to getting a hefty, if brief, bang for his bucks from Gayle?
The major associations, Auckland, Wellington, Canterbury, Otago, Central and Northern Districts, have had plenty of discussions on whether - and which specific route - to go down the franchise path.
Late last year, NZC commissioned an independent report done by Anthony Crummy into the viability, and wisdom, of franchising. In essence, Crummy, who had worked on the Rugby World Cup, found that more work and thought was needed. The idea was not dismissed out of hand; nor did it advocate taking it on straight away.
The Herald understands the two associations strongly supporting franchising are Northern Districts and Canterbury. Auckland are seen as being towards the other end of the scale, although their chief executive Mark Cameron described their view as being "we are interested, let's have a look".
Indeed Cameron believes the game here is heading towards a natural progression towards a franchise situation anyway.
"It's a good healthy debate to have and we should be having it and we should be challenging ourselves to consider this option," Cameron said. "I'm not discounting it, I'm just saying we're probably in the camp [which says] just have a think about this. Realistically can it be done in an economy the size of New Zealand and, depending on how it's structured, does it really benefit the development of the next Black Caps players or New Zealand team?"
Before becoming chief executive of Auckland Cricket, Cameron was the Northern Mystics netball boss, and was involved in basketball as well.
Ironically, Netball New Zealand has just moved away from the franchise model to a region-based setup. Why? The rationale was to share resources between grassroots, the middle tier and the semi-professional side in the form of the transtasman ANZ Championship.
"What they realised is there is only one region that can sustain a semi-professional team commercially, because of the size of the market. There's a reason the Warriors and Breakers are based in Auckland."
The National Basketball League has for years "been littered with cases of well-meaning benefactors who were trying to privately run a team, but it's a struggle year in year out".
The New Zealand Rugby Union retained all ownership and was offering licences to run aspects of four of its five Super Rugby franchises.
All the models differ, however. For NZC the first step is does it want to go down the franchise route for a start and, if so, which way to jump: total immersion or paring off the T20?
It has appointed the highly capable former chief executive of ND, David Cooper, as general manager of domestic cricket. Cameron hopes in time it becomes a high-profile position within NZC because of its importance to the health of the game in this country.
Part of Cooper's brief is the marketing and selling of domestic cricket. Cameron feels rapid progress has been made in the past year and believes franchising will happen; just first make sure all i's are dotted and t's crossed. "With the progress we've made with Sky having Friday night cricket, we're stepping down the path of having a high profile T20 competition quite rapidly. There's no need to rush it, but if there is resourcing and benefactors willing to invest, let's be exploring those options."
Players' Association boss Heath Mills worries New Zealand are in danger of fast being left behind unless the national body acts.
"The mindset of people running the game here is that domestic cricket is a development game," he said.
The major countries have worked out they can make money with their own competitions, which has squeezed international cricket into effectively 10 months.
"The problem is we've got the same 80 or so players who are expected to play in all these tournaments. At the same time we haven't re-shaped the international programme, so it forces players to make choices," he said.
"That's okay if you're a player at a big country like India, Australia, England or South Africa, where you can earn $2.5m per year; it's not so easy if you're a New Zealander earning $250,000.
NZC needed to "look what's going on around the world". Zimbabwe, Bangladesh (who have had problems paying players) and Sri Lanka are privatised; West Indies are heading that way. Australia have the Big Bash League, India the IPL while England are still owned by the counties, but with a strong commercial focus.
"T20 has created the ability to run domestic franchise commercial operations. That's not going away," Mills said. "We need to go to the private sector."

Q&A - Taking the franchising route
Why go down the franchising route?
For the commercial benefits that could arise from moving to private, or part-private ownership.
What about other possible spinoffs?
It is hoped private investors see the need to upgrade facilities and coaching infrastructure, which major associations can't afford.
Would it be across the three versions of the domestic game or just T20?
A key stumbling block. Having only a T20 operation would necessitate two separate management/coaching setups and what would it do for the development of players? Taking it across the game seems to be gaining currency.
Is it supported by all six major associations?
There's a range of views, although two MAs are strongly supportive. The prevailing view appears to be, broadly speaking, it is an interesting, and necessary discussion, but less haste, more absolute certainty of what it will mean is required.
Where else is a franchise system in operation?
Most test-playing nations, the Indian Premier League being the best example.So why not plough ahead?The important point is whether New Zealand's economy can sustain it - more specifically while Auckland with it's population and commercial size could carry it, what about the smaller provincial regions?