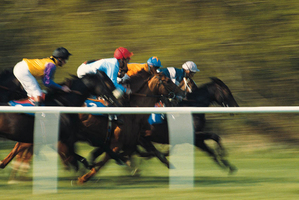 The men who had to call off yesterday's Pukekohe thoroughbred meeting still can't believe it.
But the connections of horses robbed of opportunities at the meeting at least have a replacement race day to look forward to next Monday.
The Counties Racing Club meeting was called off after race two, in which several horses slipped at the 700m mark.
That followed the Paeroa meeting on Monday also been abandoned for safety reasons, leaving the northern industry with nearly $100,000 worth of races having disappeared in two days.
New Zealand Thoroughbred Racing has moved quickly to provide a replacement meeting, with six races to be held at Pukekohe next Monday, with entries closing tomorrow.
The track will get its next serious test before then though, with a trial meeting scheduled for tomorrow set to go ahead and work to cut into the top of the track surface to be conducted today.
But stipendiary steward Alan Coles says yesterday's abandonment was nothing to do with the controversial drainage works at Pukekohe.
"It was just one of those freak things and I can't actually believe we had to call the meeting off," Coles told the Herald.
"The problem area was not near the drainage work, it was at the 700m mark, which is why the first race didn't expose it because they were two-year-olds and came out of the 800m chute."
Coles said several jockeys complained of their horses slipping in the second race and while there was not a great push to abandon the meeting, a track inspection left little choice.
"The jockeys weren't jumping up and down about it but when we went and inspected the track there were several substantial slip marks sideways, which meant it was too dangerous to race on." Coles says he feels for the club because there was little they could have done.
"In my opinion, they had watered the track enough and that is shown by the fact it was rated a Slow (7).
"The club and their track manager had been watering the track right up to the Counties Cup meeting two weeks ago and had kept it up after that, which should have meant the combination of summer weather and then a little rain shouldn't have affected it.
"We took two trainers out to look at the track with us and both of them couldn't believe how horses could be slipping on a track with that much water on it.
"But it is just this time of year. When we have this problem it is always worse in November and early December. So it is a shame but I am not sure there is any more the club could have done."